Despite its simple design, this has become my go-to toy for a variety of reasons.  First, it's clear so I don't have the sense that my cock is out of sight and somehow detached.  Second, it has nice internal textures but remains silky smooth, providing just the right balance of friction and glide.  The best thing, however, is that its open end allows you to stroke all the way through.  This has multiple benefits: first, it allows you to pop outside of the sleeve, reducing clean up time; second, just the change in feel of moving in and out of the sleeve is an erotic charge; third, it allows you to complement the stroking with something like the Tenga Egg for more variation and stimulation.  There's also no buzzing noise or unwanted slurping from suction.  It's also durable enough to flip inside-out easily for quick cleaning.  the only drawback to the 'All In' is that there's no shell for storage.
I don't like to compare toys, as they're often best when used in combination with other toys and one toy may be particularly good for one experience while another shines in completely different ways.  But it's worth noting the following if you're looking for only one stroker: the All In is cheap!  It's open top is definitely a benefit for me, it's relatively small, transparent, and you can always warm it up if you want.  If you don't have the budget for splurge for a Fleshlight, the All In is the best basic stroker on the market in my opinion.
BUY NOW AT MANSHOP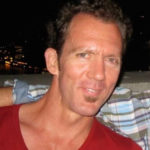 Magnus Sullivan
Magnus Sullivan has been at the forefront of technological and cultural shifts for more than 20 years. In 1993 Magnus founded eLine, one of the first system integration firms in San Francisco, bringing some of the biggest brands in the world online. One of his first clients was the storied progressive adult toy reseller, Good Vibrations. This was his first foray into the world of adult and he never looked back, partnering with the powerhouse, Game Link, to help create one of the most formidable companies in the online adult market. He has created two of the most awarded and recognized movies in the adult industry ('An Open Invitation' and 'Marriage 2.0', which won The Feminist Porn Awards coveted 'Movie of the Year' award in 2016) and recently launched www.manshop.com, a reseller of sex toys for men, and www.betterthanthehand.com, a sex positive blog that promotes male masturbation and discusses the various social issues associated with it. Sullivan has written extensively about the need to expand and enhance content production in the adult industry and is also the author of 'Better Than The Hand: How Masturbation is the Key to Better Sex and Healthier Living'. He is a fourth-generation SF-native, lives with his wife and children in the San Francisco Bay Area and enjoys kite boarding, skiing, triathlon, cooking, reading, writing and just about everything else that engages his mind and his body.
35 Articles