Sexual orientation does not affect where our nerve endings are.  That it feels good to stimulate the prostrate is not the exclusive domain of gay men.  And because of the huge stigma for men and their asses, straight guys have overlooked an entire landscape of blissful sensation.  If you can shed the fear and shame and just relax, you can experience one of the most incredible and unexpected forms of masturbation available to you.
I like to think that the more open i am to experience, the more powerful and empathetic I am — and that's hot.  If you're afraid to put this thing in your ass, you definitely shouldn't ask to put your thing in someone else's.  And once you do put something in your ass, you're going to act with far more tact when entering through the back and it's far more likely you'll be invited for a return visit.  For some, anal play can result in incredible orgasms without stimulating their cock.  For others, anal play is powerful background music for a variety of other cock-centric activities.  Whenever you move away from stroking, you're following a totally different arc to orgasm.  You need to be patient  and allow the stimulation and eroticism to build, explore different positions with the toy until you understand how it works to arouse where it stimulates most powerfully.
For curious newcomers to anal play, you do want to be mindful of a few things to ensure a good experience:
Get aroused first.  Whatever you do to get turned on, take your time and get warmed up
Put a towel down for lube and anything else.  While anal play (particularly with small toys like prostrate massagers) isn't generally messy, it's nice to plan ahead so you're not even thinking about it.
I like to lie down and prop myself up with pillows to create a stress-free curve to my spine.  Spread your legs slightly and bend your knees with feet flat on the bed.  Some people like to lie face-first or on their side or even stand.  Experiment with positions that work for you.
Breath deeply to relax and place plenty of lube on the toy and/or in your ass.  As you're inserting the toy, breath out and bear down as if you're going to the bathroom.  You should be relaxed enough so that you don't feel like you're pushing it in.  It should slide in easily when the time is right.
Position the toy so the tip is pointing towards the front of your body and play with positioning until you feel you're stimulating your prostrate.  You will know when you find it.
Start to contract your PC muscles rhythmically, as if you're holding in your pee and then relaxing, and then repeat that process again.  Contract these muscles as hard as you can at the intervals that feel best and you should start to feel increasing pleasure as you combing muscle contraction with toy positioning.
If you're one of the lucky ones that can orgasm from prostrate stimulation alone, you're probably well on your way if you're contractions are rolling in like swells in the ocean.  Others may be ready for some creative cock play to compliment the serene background music.  I particularly like to use a Tenga Egg to stimulate and play with the tip of my cock as the humming from the Lux Prostate Stimulator ripples through my skin.
BUY NOW AT MANSHOP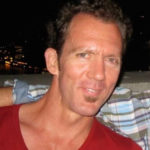 Magnus Sullivan
Magnus Sullivan has been at the forefront of technological and cultural shifts for more than 20 years. In 1993 Magnus founded eLine, one of the first system integration firms in San Francisco, bringing some of the biggest brands in the world online. One of his first clients was the storied progressive adult toy reseller, Good Vibrations. This was his first foray into the world of adult and he never looked back, partnering with the powerhouse, Game Link, to help create one of the most formidable companies in the online adult market. He has created two of the most awarded and recognized movies in the adult industry ('An Open Invitation' and 'Marriage 2.0', which won The Feminist Porn Awards coveted 'Movie of the Year' award in 2016) and recently launched www.manshop.com, a reseller of sex toys for men, and www.betterthanthehand.com, a sex positive blog that promotes male masturbation and discusses the various social issues associated with it. Sullivan has written extensively about the need to expand and enhance content production in the adult industry and is also the author of 'Better Than The Hand: How Masturbation is the Key to Better Sex and Healthier Living'. He is a fourth-generation SF-native, lives with his wife and children in the San Francisco Bay Area and enjoys kite boarding, skiing, triathlon, cooking, reading, writing and just about everything else that engages his mind and his body.
35 Articles