Not every sex toy comes in handy for male masturbation, female masturbation or couples' play, but here's a pack with sexytime uses for all three. That's the fun of the Super Stretch Stimulator Sleeves, a Doc Johnson pack of textured, stretchy phallus sleeves that can be used as cock rings, penis sleeves and/or ticklers. All of these stimulator sleeves have solid solo potential on penises, fingers or vibrators, though some are better suited for male masturbation pleasure than others.
The Super Stretch Stimulator Sleeve assortment is a box of seven clear, rubbery, open-ended penis sleeves of varying sizes. They can be applied to dicks, dildos and fingertips to deliver french tickler-style stimulation to the penetratee. Each sleeve has a different exterior textures of soft spikes, nubs or ribs, but they can also be busted out for solo male action. While the pack has seven different textured sleeves, only one of them works well as a traditional "pleasure enhancer" – in other words, a dedicated masturbation stroker – for solo male action. That's the 2.5-inch jumbo sleeve, the size of which makes it easier to put on and better suited for direct stroking and pleasuring. The other six 1.5-inch mini-sleeves are better utilized as cock rings to prolong your session. Their different ribbed exteriors don't produce significantly different sensations on your junk, but they can choke the lower end of your chicken to keep you erect longer.
You'll need to be fairly rock-hard to put these stimulator sleeves on your dick, and they do need to be fiddled with and stretched to apply. Even the largest jumbo sleeve takes some two-finger stretching and lube to put on, but the application process itself can be pleasurable enough to enhance your boner. The smoothness of the rubber teases and massages your shaft to deliver a sensation that's gentler but more arousing than just your palms or fingers. When slid further down your dick, this sleeve can subtly hug and squeeze your favorite sensitive area to deliver a sweet spot, button-pushing sensation to build and power your climax.
Only the largest of the sleeves delivers the direct gratification of a traditional sleeve during male masturbation, but the six smaller sleeves serve well as cockrings, as they're tight and fairly difficult to apply. They don't really deliver pleasure like the large sleeve because they're too small and snug, regardless of the dimensions of your wang, but the tightness can help you maintain a more solid erection if you slide these littler sleeves further down your penis. The different ribbed exteriors have good potential for a dildo or for vaginal fingerbanging. But when I used these babies for anal fingering, I could only tell there was something cold in my butt – the exteriors didn't feel any different from one another, nor did they deliver any significant prostate pleasure.
Your mileage with the Doc Johnson Super Stretch Stimulator Sleeve Pack may vary, based on the shape and dimensions of your cock or dildo of choice. If I got to pick, I'd prefer more larger sleeves and fewer small ones – the larger sleeve is definitely more useful for solo masturbation. The smaller sleeves are better suited for use as dildo ticklers or for fingerbanging in couples' play. It may be that none of the individual pieces in the set turns out to be the go-to to rock-your-world, but each does have some boudoir use, and the set makes a cool, affordable little addition to the back of your "sock drawer".
MISSING PRODUCT ID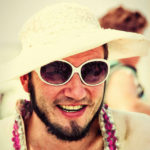 Steven Silvercreek
Steven Silvercreek is a freelance writer who excels at cultural histories, NBA analysis and the homoerotic double-entendre. He bounces around professionally between SFist, Broke-Ass Stuart and the SF Weekly and his work has appeared in the New York Times and Wall Street Journal on days when their editors made highly suspect decisions. You can follow his exploits at twitter.com/ExercisingDrunk
1 Article