It was 1982 and Italy was playing in the finals of the world cup in Spain.  We arrived at the train station in Milan to make our way to a small town just north to visit my Italian relatives and our train pulled in just as the game began. 
The station was completely empty. 

The platforms were quickly deserted, the rental car agency was closed and we stood alone under the massive, cavernous, arching ceilings.  We sat.  We waited.  We starved.  I decided to go to the bathroom.  The Milan train station is normally one of the busiest in Europe and the bathroom was clearly designed to accommodate hordes of harried travelers.  It was white.  Entirely white.  The tiles on the floors were white, the walls and ceilings were white, the counters and sinks were white.  The giant mirrors reflected white.  I paused for a second as I stared down the long line of wall-urinals that seemed to disappear into infinity.  It seemed odd to choose the first stall, so i walked about halfway down the line and nestled up next to a stall.  For a 13-year-old, I was carrying the pee of a man 4 times my age.  Suddenly the door creaked open.  It must be my father coming to check on me.  When I heard the sharp tic-tac of metal-soled heels against the tile, however, I knew it wasn't my father.  The clacking paused when, I assumed, he faced the same choice I faced.  It then continued.  And continued.  Out of the corner of my eye I could see a tall figure in a dark suit walking towards me.  Surely he would stop at one of the stalls some distance from me.  But he didn't.  He came right up next to me, stopped, turned, and unzipped his pants.
Ever polite, I didn't want to stare, but after a few seconds I couldn't resist.  I slowly glanced up and, shockingly, he was looking directly down at me with the wild eyes of a spooked horse.  I noticed he was moving rhythmically from the hips, so I looked down and saw his massive cock in his hand.  He was masturbating to me pissing in the urinal of the Milan train station! 
I quickly zipped up and scurried out.  I turned back to see if the man was following me but he was nowhere in sight.  The game ended.  We rented our car and continued on our trip.
A few days later we were staying at the Plaza Athenee in Paris and I went into the bathroom with a singular focus.  Whatever that man was doing, he was willing to risk a lot to do it, so i was going to find out what it was all about.  I sat on the toilet in the massive luxury suite and started to stroke my hard cock.  I had no idea what I was doing but I just mimicked what I had seen.  The sensation built and built and built until i nearly froze.  It was as if I'd had a minor stroke, but I somehow continued to stroke.  Time stopped.  My entire body convulsed.  Fluid erupted from my cock and I fell off the toilet and lay on the cold tile, quivering.
My father knocked on the door and asked what was going on and told me we were late for lunch downstairs.  I told him to go ahead — that I'd meet him at the restaurant. 
After a few minutes, I recovered, dressed and headed down for lunch.  At the table, I could barely speak.  Finally, I asked, 'Do you feel that?!  It's an earthquake!'  As we're all from San Francisco, everyone took the claim seriously but slowly eliminated the possibility: no one else felt anything and there are no earthquakes in Paris.
But there was a quake, albeit the rumble through my being of my sexual awakening.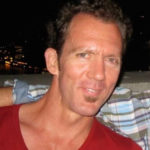 Magnus Sullivan
Magnus Sullivan has been at the forefront of technological and cultural shifts for more than 20 years. In 1993 Magnus founded eLine, one of the first system integration firms in San Francisco, bringing some of the biggest brands in the world online. One of his first clients was the storied progressive adult toy reseller, Good Vibrations. This was his first foray into the world of adult and he never looked back, partnering with the powerhouse, Game Link, to help create one of the most formidable companies in the online adult market. He has created two of the most awarded and recognized movies in the adult industry ('An Open Invitation' and 'Marriage 2.0', which won The Feminist Porn Awards coveted 'Movie of the Year' award in 2016) and recently launched www.manshop.com, a reseller of sex toys for men, and www.betterthanthehand.com, a sex positive blog that promotes male masturbation and discusses the various social issues associated with it. Sullivan has written extensively about the need to expand and enhance content production in the adult industry and is also the author of 'Better Than The Hand: How Masturbation is the Key to Better Sex and Healthier Living'. He is a fourth-generation SF-native, lives with his wife and children in the San Francisco Bay Area and enjoys kite boarding, skiing, triathlon, cooking, reading, writing and just about everything else that engages his mind and his body.
35 Articles