It is rare, in the current stage of my career as a slut, to find a really new type of sex toy that I genuinely haven't tried before. That is what drew me to the Love Botz Rotating Masturbator. Almost all of the obvious combinations of USB powered gadgets with masturbation aids have already been tried ad nauseum, so why hadn't I ever tried a rotating masturbation sleeve before? Is it that hard to attach a cordless drill to a Fleshlight?
There are many things that drew my interest to this particular toy and one of them is the high tech aesthetics of this fuck sleeve. I need to give credit where credit is due; this toy looks really cool!. It could have come off the set of a porn parody of Tron. It even lights up with rainbow LEDs when you use it.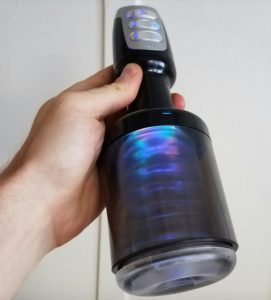 This can look absolutely silly, so if you take your masturbation very seriously and are not a cyborg it may be too campy for you. For me, however, it is awesome and there are so many ways I can imaging using this gadget:
I want to take it to a big gay rave and masturbate with it on the dance floor.

If you do any science fiction role play, this toy is for you.

If you're the only one in your Burning Man camp without light-up genitals, this toy is for you.

If for any reason you get excited when things blink, buzz, and whirl, you will undoubtedly get a lot out of this toy that goes beyond the physical sensation it provides.
I think one problem with toys like this is that they cost more than most people want to shell out just to give a new idea a whirl. Given the materials and quality/safety standards, the price is reasonable.  But the Love Botz is up against a wide variety of cock sleeves that don't rotate, which everyone already seems to love, that cost a lot less and don't need to be plugged in. Most guys choose a low-tech masturbation sleeve for simplicity and cost saving, unless they have a reason (other than novelty) to want the automated rotation feature.
So the big question: how does it feel? Well, it feels pleasurable, but doesn't knock my socks off. Generally I get off when I use it (but not always), and if I am looking to blow my mind and melt into a puddle of gooey well-sexed molasses, this is not the toy I choose. But that is OK – I don't need (or want) to melt my face every single time I masturbate. The Love Botz device delivers what it promises. As soon as I saw a picture of this toy, I had a clear idea in my mind of how it would work and vaguely what it would feel like, and that idea turned out to be eerily accurate — which is both comforting and a little bit disappointing.  The textured inside of the sleeve is covered in soft silicone nubs that stimulate the head of my cock as the toy rotates.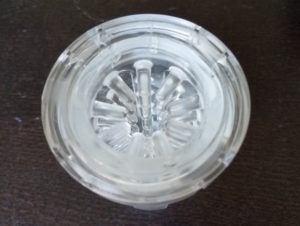 I was hoping it would surprise me in a positive way, and although it did not, I was also very glad that it didn't surprise me in a negative way. It feels good, the way it looks like it would feel. I still need to thrust gently (or hard) into the toy to get enough stimulation to stay hard and come.
The design of this toy is generally good, though I have a few minor complaints. The toy feels and looks solid, and the controls are simple and intuitive. The extra rotation/vibration modes seem superfluous to me, but they do not get in the way of the primary functions. The built-in rechargeable battery charges over USB (great, right?), but it still requires a non-standard connector, which is annoying because you still have to keep track of the specific cord they send you. Most importantly, this toy comes apart completely and the sleeve turns inside out, which makes it possible to clean the toy thoroughly. I still wish that the disassembly and cleaning were a little bit easier and more straightforward, but that is a problem with all masturbation sleeves to some degree. The designers clearly put in a solid effort here.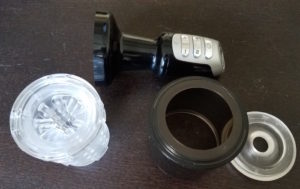 Despite the effort on ease of cleaning, I was still a little disappointed at how much effort it takes to use and maintain this toy. It's not a lot of work in the grand scheme of things, but I really want this to be a lazy masturbation toy. I imagine lying back peacefully and drifting into my fantasies, lightly holding this toy while it hums away at me, grateful not to have to pump away with my arm as usual. In practice, however, this toy ends up being a lot more work than masturbating with my hands or my Magic Wand. I have to get the toy out, lube it up, and clean it afterwards – and even while I'm masturbating, I still need to move it around and pump into it, and it is a lot heavier than my hand.
In the end, the automation doesn't accomplish something totally unique and level of work mirrors what's required with a regular sleeve,  So while it's an interesting sensation, I can't say it's Better Than The Hand or worth the additional cost.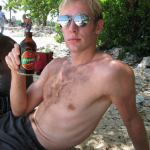 Ned Would
Ned Would is a bay area queer geek with a background in experimental Physics and a very dirty mind. He has been involved with the porn industry since 2010 as a performer and adult industry web developer, providing software support for independent performers and small studios (including, for a while, his own DIY porn site). In 2011 Ned created a biometric buttplug capable of wirelessly streaming live data about muscle contractions, heartrate, and other physiological signals of arousal and orgasm to a nearby computer in real time. Ned's work in the adult industry focuses on fighting stigma, created a safer work environment, and increasing performers' agency over their role in the adult industry. He is currently working on a suite of privacy and security tools designed for adult industry performers and studios.
8 Articles