VR fundamentally changes the adult viewing experience in two basic ways: first, assuming you're using the proper headset, the viewing environment is completely immersive; second, the ability to shift the POV with a simple tilt of your head creates the anticipation of imminent discovery laced with just enough interactivity and control to give you a sense of power.  that might sound odd, but the viewing experience of VR is very different from that of HD, 3-D or inter-active porn.  So if you like to watch, there's no better way to watch than with VR.
I have written at length on the problems with adult productions (See: Why the Adult Industry Must Make a Great Movie and Fixing a Fundamentally Broken Model).  But many people have misinterpreted my comments to be disparaging of 'masturbation porn.'  Not at all.  I love it!  My point in the articles is that we keep repeating the same formula over and over and, due to piracy and free content on tube sites, it no longer has a sustainable economic model.  And VR might quickly go the same route, but after trying a variety of movies, I'm convinced that it provides a dramatically new and compelling experience.  The erotic charge I got from VR content was unlike anything I've experienced.  And because betterthanthehand.com is about masturbation, anything that enhances that experience is of interest to us.
First of all, there's something about the depth and plasticity of the field of view that makes the moment that actually occurred, when the performer disrobed for the camera and fucked for the world, that makes that moment seem as if it's happening in real time.  There's something about the ever-shifting angles and perspective that makes that moment seem endlessly fresh.  There is an energy to it, and because you can focus on different aspects of the scene, a repeat viewing of the same file is not actually a repeat viewing — it's slightly different.  You are actually viewing new footage and altering the viewing experience based on your behavior.  Depending on the type of movie you're watching, you can shift your focus to the action that turns you on the most.  Lips?  Tits? Penetration?  Ankles? Shoulders? Ass?  Whatever it is, you can direct the camera in the right direction.  In movies with multiple performers and/or multiple sex acts, you can shift the POV so dramatically that you can actually do a 360 degree rotation and watch action occurring in completely different areas — and then focus on what you like.
The 360 degree audio is also compelling.  To hear the voice coming from behind you, or to hear her breathing get louder and her the sound of her whisper increase as she leans down and whispers ads an entirely new sense of presence.  Coupled with the all-immersive aspect of wearing goggles, the images assume a dreamlike, completely captivating lure that somehow combines the etherial with the hyper-real.
Before purchasing a high-end headset for viewing with your smartphone, however, I recommend you try it out to see if it's your thing.  Browse the selection, download a file that looks good, and watch it with either a set that's included with your first purchase or buy an entry level set.  If you like the experience, you will want to upgrade to a set with a head strap for a 'hands free' experience so that you can play more effectively with toys. 
And remember our mantra: use multiple toys and ease into the experience.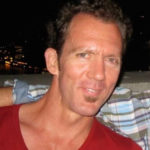 Magnus Sullivan
Magnus Sullivan has been at the forefront of technological and cultural shifts for more than 20 years. In 1993 Magnus founded eLine, one of the first system integration firms in San Francisco, bringing some of the biggest brands in the world online. One of his first clients was the storied progressive adult toy reseller, Good Vibrations. This was his first foray into the world of adult and he never looked back, partnering with the powerhouse, Game Link, to help create one of the most formidable companies in the online adult market. He has created two of the most awarded and recognized movies in the adult industry ('An Open Invitation' and 'Marriage 2.0', which won The Feminist Porn Awards coveted 'Movie of the Year' award in 2016) and recently launched www.manshop.com, a reseller of sex toys for men, and www.betterthanthehand.com, a sex positive blog that promotes male masturbation and discusses the various social issues associated with it. Sullivan has written extensively about the need to expand and enhance content production in the adult industry and is also the author of 'Better Than The Hand: How Masturbation is the Key to Better Sex and Healthier Living'. He is a fourth-generation SF-native, lives with his wife and children in the San Francisco Bay Area and enjoys kite boarding, skiing, triathlon, cooking, reading, writing and just about everything else that engages his mind and his body.
35 Articles