I have sampled a lot of sex toys over the years, and most of them fail to catch my interest beyond passing novelty. The M-Gasm attachment is one of the few toys I will probably make a part of my regular masturbation routine. It feels amazing, it's affordable, it doesn't take up much space, and it lets me have a different experience than I usually have in masturbation. That is really all I can ask for from a masturbation toy.
This toy is just plain fun to use. The vibrating helps, but I think my favorite part is the two handed stroking motion I end up using with the M-Gasm. With one hand, I hold the fleshy part of the toy around my cock, and with the other I hold the handle of hitachi. I find it works best if I hold the sleeve toward the base of my cock, and the wand near its handle. This means my hands are separated by almost two feet. To fuck the toy I need to make big stroking motions with my entire arms in unison.
This has two pleasing effects. First, it kind of feels like I'm stroking an absurdly enormous cock, which is a little fun.
Second, I end up rotating my entire shoulders back and forth with each thrust instead of using my fingers, wrist, upper arm, or even one entire arm. My whole body is engaged in the movement, which ends up feeling more like thrusting than stroking. This toy immediately felt more "like sex" than other sleeves I've used, and it took me a while to realize that this full body engagement is a big part of the reason why.
Using more of my body also limits the maximum stroking frequency. This can make the experience feel more realistic, and can extend it significantly. I find myself masturbating for longer periods using this toy than I usually do with my hand, but I enjoy every minute and ultimately experience an intensely satisfying orgasm.
Good Use of Vibrations
Vibrators are often added to sexy toys to increase their value, whether or not they necessary improve the user experience. This is not one of those toys; the vibration here is entirely, delightfully warranted.
Many sex toy consumers do not appreciate the engineering that goes into making a good vibrator. Remember that a vibrator is a power tool, much like a sander or a dremel, except that you trust it on your junk.
As with most power tools, using a poor quality vibrator is often less effective than doing the job by hand. A high quality, dependable tool that you know how to use, on the other hand, is extremely effective.
Since it is worth investing in high quality tools, they should be versatile so that you don't have to buy a new one for every task. The magic wand is a top quality vibrator, designed by a power tool company, which has been industry standard for literally decades. It is tough for a sex toy startup to compete with that, and it is tough to convince me that I really need another vibrator. I appreciate toys like the M-Gasm that take advantage of the solid engineering that already exists, rather than trying to recreate it and sell it to us over again.
The magic wand can be too intense for some people, and this sleeve should help with that problem. Vibrations from the wand are dulled enough that the low setting will not be too intense for most people. It does, however, transfer plenty of power to make the sensitive head of your penis feel amazing when you thrust really deep into the toy. With most masturbation sleeves, I need to use my hand to add extra pressure to the head of my cock so that those sensitive areas get sufficiently stimulated. With this sleeve, I can let the wand do all of that work and use my hand to apply just the right amount of pressure to my shaft.
The Downside: Cleaning
This toy is kind of a pain to keep clean, especially if you want to use it regularly. As I mentioned, you need to use plenty of lube for this to feel good, and you usually end up pumping it for a good while. After you come it's going to be a warm sloppy  in there. 
Unfortunately, you really have to clean up immediately. If you let that hot mess sit around for any length of time it is going to be all kinds of disgusting. Some people finish masturbating and fall asleep, leaving cleanup for the morning. That's not a great plan for this toy.
The sleeve feels good because it is tight, deep, squishy, and covered in texture. For the exact same reasons, it is tough to clean, tough to dry, and (presumably) easy to grow bacteria or fungus in there. It isn't quite stretchy enough to turn it inside out without risking tearing it.
To clean the thing, you can reach in with fingers from both hands and pull the sleeve open, then run the inside under a tap with some soap. It's possible to rub your fingers around to give the inside a good scrub. So far so good.
Drying it properly is harder. You can try (as I did) to dab a washcloth as deep as you can, but inevitably the back few inches seem a little damp. That moisture seems unlikely to evaporate any time soon out the tiny silicone orifice while the toy is waiting in my toy box. I fear that if I am not diligent about washing and drying this toy it will need to be replaced before too long. Luckily, this toy comes with a $35 price tag, so replacement isn't too cringe-worthy.
If you want to use this toy often and keep it for a long time, you may want to buy yourself a cheap speculum to store the toy on. Simply insert the speculum and use it to open the toy's orifice up, and suddenly those isolated spots in the back can dry easily.
The only real downside to the M-Gasm is that you have to already own a wand vibrator in order to use this toy. If you don't have a wand, check out my review of the Magic Wand to see why you might want to invest. If you do own a wand vibe that you like, the M-Gasm attachment is likely to be well worth your money. Even if you buy the magic wand and the M-Gasm together, that combo is likely to give you more bang for your buck than other vibrating sleeves which need to build their own vibrators from scratch.
MISSING PRODUCT ID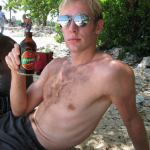 Ned Would
Ned Would is a bay area queer geek with a background in experimental Physics and a very dirty mind. He has been involved with the porn industry since 2010 as a performer and adult industry web developer, providing software support for independent performers and small studios (including, for a while, his own DIY porn site). In 2011 Ned created a biometric buttplug capable of wirelessly streaming live data about muscle contractions, heartrate, and other physiological signals of arousal and orgasm to a nearby computer in real time. Ned's work in the adult industry focuses on fighting stigma, created a safer work environment, and increasing performers' agency over their role in the adult industry. He is currently working on a suite of privacy and security tools designed for adult industry performers and studios.
8 Articles