The Lelo Hugo is a solidly built vibrating buttplug that should be enjoyable both for anal noobs and fisting enthusiasts. It is big enough to feel like you have something to squeeze against, but small enough not to hurt if you don't do this often (if it's your first time do go very slowly, though, and use lots of lube. Be kind to your butt!). The finish on the Hugo is smooth and matte, easy to clean, and just soft enough to be comfortable. The toy is mostly rigid, but does bend somewhat at one joint along its curve so that it squeezes against the prostate and the perineum.
A lot of people who haven't tried a vibrating buttplug wonder if it will even feel good. Having something in your ass can be an odd feeling at first, and it is hard to predict how vibration would feel there. In my experience, the vibration does not feel localized on the plug or my prostate; it feels like my whole pelvis is vibrating uniformly from the inside. This is a lot more efficient in terms of transferring energy than holding a vibrator against my skin, where most of the energy is lost into my hands or the outer surface. Vibrating from the inside, the vibrations are more distributed but they all are transferred deep inside me. For me the point of this is less to stimulate nerve endings near my skin directly, but to help all of my muscles relax and warm up. It really works, and as a result I love using internal vibrators when I'm feeling anxious or tense.
The shape of this toy makes it easy to use it hands-free once I insert it. This is a great feature, since it is often difficult to stay coordinated stroking my cock and holding a buttplug at the same time in the middle of an orgasm (especially a good one). Also, if you are worried about it being messy, you can finish up your masturbation session and then go remove the toy afterward in the bathroom or shower. A lot of toys claim to allow this kind of hands-free experience, but in practice they tend to pop right out once I start to come. The Hugo is quite good at staying in place.
Once the toy is inside me, I can control it either using buttons on the toy itself or using an included remote control. I would start by turning on continuous vibration mode on low and masturbating as normal, turning up the power as desired. As you get aroused, try squeezing your ass against the toy in different ways to get it to move inside you. You will find you can change the sensation a lot depending on how you relax and tighten your pelvic floor muscles (all those muscles around your ass, groin, and taint). Take deep breaths; you may find yourself inadvertently doing core muscle exercises.
I do have a general issue with many of the toys today and this applies to Lelo in general and to the Hugo in particular: although the Hugo is definitely a good toy that I enjoy using, I can't help but think that Lelo could have offered the same quality and a better user experience at a lower price if they weren't trying so hard to make the toy seem like a sleek tech product. Lelo has been working to brand themselves as the Apple of sex toys and even talks about their products as 'accessories to a luxury lifestyle' rather than as sex toys. The goal is to make you feel like you are purchasing an exciting high tech luxury gadget rather than a vibrator. The toy arrives encased in oversized packaging with a streamlined minimalist aesthetic, intended to mimic the experience of unwrapping a fancy new smartphone.
In my opinion, most of the "high tech" aspects of this toy distract from its functional purpose. I am skeptical anyone has ever uttered the words, "those first nine pulsation sequences were ok, but the tenth one really blew my mind!" or "I'm getting close…scroll through to the seventh pulse sequence!" I can't speak for everyone but I don't ever use the pulsed vibration settings, and I certainly don't need ten of them. Who does? It seems gimicky and unnecessary. If they do choose to include so many pulsation functions, the least they can do is make it easy for users to ignore them. Instead, the button to scroll through all of the pulsation sequence one by one is the same button that turns the toy on and off. The only thing I want to do is to make their little motor start and stop when I want it to, and I end up cursing and fiddling with weird pulse rhythms all the time. Lelo has over-engineered their toys to the point where it makes them more difficult to use them normally.
Overall, this is a solid toy that would make a welcome addition to most men's sex drawer. If you are looking to start experimenting with anal play, this is a great place to begin. If you are a veteran prostate play lover, you will enjoy the well crafted shape and effortless hands-free operation.
MISSING PRODUCT ID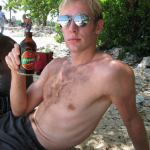 Ned Would
Ned Would is a bay area queer geek with a background in experimental Physics and a very dirty mind. He has been involved with the porn industry since 2010 as a performer and adult industry web developer, providing software support for independent performers and small studios (including, for a while, his own DIY porn site). In 2011 Ned created a biometric buttplug capable of wirelessly streaming live data about muscle contractions, heartrate, and other physiological signals of arousal and orgasm to a nearby computer in real time. Ned's work in the adult industry focuses on fighting stigma, created a safer work environment, and increasing performers' agency over their role in the adult industry. He is currently working on a suite of privacy and security tools designed for adult industry performers and studios.
8 Articles