Open Invitation to Join AmA Discussion on the Benefits and Social Stigma of Prostate Massage
LOS ANGELES (August 29, 2016) – Adult online retailer ManShop.com is talking prostate massage, masturbation and more with fetish performer Lance Hart and ManShop.com's marketing guru Jeff Dillon on Reddit's AmA  from 4 to 5 p.m. PST on Tuesday, August 30.
"This is a great opportunity for men to sound off on prostate massage and learn about its' health benefits and importance for overall wellness," said Dillon, vice president of business development for eLine, parent company of ManShop.com. "Lance and I are looking forward to talking to everyone about the healthy attitudes toward prostate massage, techniques and more importantly, the stigma behind it."
Hart, who is known for his work in scores of fetish-themed sex videos and for his strong support of the adult industry, will present his take on prostate massage and its impact on wellness, among other topics.
The discussion will focus on the benefits of prostate massage and its correlation to overall health as well as practical techniques, the use of toys, product recommendations as well as stigmas and societal concerns about prostate massage.
"I've made a career out of putting things in my butt. Women put things in my butt, Men do it, Trans Women and Trans Men do it. Having a prostate is not a sexual orientation thing. It's a man thing," Hart said. "About once a week I get approached by a straight male friend with questions about putting things in his butt: 'Hey Bro, I want my wife to put things in my butt… how do I…?' I'm eager to have a frank discussion with the masses and possibly spread the Good Word about butt orgasms. Clearly this is a topic that needs attention."
For more, visit ManShop.com or its sister site, BetterThanTheHand.com.
About ManShop.com:
ManShop.com was created by men for men as a one-stop retail site offering a wide range of sexuality items such as anal beads, anal toys, sex sleeves, lotions, lubricants and more. It features comprehensive descriptions, product ratings as well as access to the latest products, blogs and a rewards program for valuable savings on purchases.
The ManShop is online at www.ManShop.com.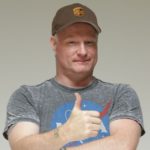 Julius Prince
Julius Prince has been masturbating for three times as long as he has been professionally writing about things people like to masturbate about. After an only barely whelming experience with a Fleshlight, he decided his hands were good enough to do everything he needed done, but he has reversed course on that, realizing that masturbation is like pizza – when it's good, it's fantastic, and when it's not good, it's still pretty good, so you might as well try as many toppings as you can to find out what makes it great. To that end, his contributions to "Better Than The Hand" will be enthusiastic and, with luck, adventurous.
5 Articles