The boxcover copy for the Multi-Erogenous Zone Massager says it's "as versatile as your desire," and that's not far from the truth. It looks like a tuning fork designed by Salvador Dali; if you put googly eyes on it, it would look like an alien straight out of a Pixar cartoon. Soft silicon with a rigid core, the Tryst looks feminine enough that you might at first wonder what you as a penis-equipped American can do with it, but the answer is "a lot."
For one thing, the Tryst can be applied to your cock in a number of ways, You can use it as a cock ring, wrapped around your hard-on (or around a soft-on that will gradually grow), or you can use it as a small but powerful wand; it has three different vibration points (I guess you'd call them) – one at the base and two vibrating arms that look like they're built for cradling a clit but feel delightful when applied to the sensitive head of your cock.
The design of the Tryst also allows you to use it on different areas of your cock at the same time – it vibrates at both ends, a solid buzz from the base and a lighter, more feathery touch from the arms, which you can either apply firmly or use more like a tickler. You can use either or both, and you can really fine-tune the sensations, since each separate vibrator can be adjusted for speed and intensity. I found that a good dollop of water-based lube makes the silicone super-smooth and much more pleasurable. The Tryst comes with a booklet illustrating the ways you can apply it, but it's much more fun to just experiment.
The variations are too many to go into here, but I definitely found that using it as a kind of cock ring – spreading the arms and fitting my cock and balls through – was one of the most satisfying options. Once you have it settled – again, use some lube to facilitate this and to keep the toy slick – you can play with the settings and move it around to get the best sensation. With the base settled against your pubic bone, you get a good solid buzz, and you can use the arms to apply lighter touches elsewhere, pressing the shaft of your dick down or pulling it up to vary the intensity.
I found that stroking with my hand and using the Tryst to provide a baseline buzz all around the base of the shaft was the best option for me, although even better was the conjunction of a Head Master, another silicone toy that's made for cockhead stimulation. The vibration of the Tryst plus the massaging action of the Head Master – it's a ribbed, vibrating silicone cup that looks like a bell without a clapper – can get pretty intense, especially if you're stroking your shaft at the same time.
I also spent a while – in another session – falling asleep with the Tryst in place, and while it wasn't orgasmic, it was definitely pleasant, and since it's rechargeable, why not? I didn't make it all the way to dreamland, but that's certainly on the list of things to try.
Tryst Multi-Erogenous Zone Massager
MISSING PRODUCT ID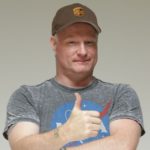 Julius Prince
Julius Prince has been masturbating for three times as long as he has been professionally writing about things people like to masturbate about. After an only barely whelming experience with a Fleshlight, he decided his hands were good enough to do everything he needed done, but he has reversed course on that, realizing that masturbation is like pizza – when it's good, it's fantastic, and when it's not good, it's still pretty good, so you might as well try as many toppings as you can to find out what makes it great. To that end, his contributions to "Better Than The Hand" will be enthusiastic and, with luck, adventurous.
5 Articles