First off, I want to tell people looking at the Sack Strap and Cock Sock not to be afraid. At first glance it may appear a bit too flimsy to trust electrifying your genitals, which might not seem at first glance like the best idea under any circumstances. It is worth persevering.
If you are nervous about subjecting your cock and balls to this new sensation, you can use these electrostim toys anywhere else on your body. If you do attach the electrodes to your most sensitive bits, rest assured there is no significant risk of damaging the goods.
If you've never tried electrostim before, you might think that shocking yourself (especially on your junk) is only for masochists. Electrostim can be painful, but isn't always, and the new sensations can be highly pleasurable if you find the right tools and the right intensity levels. Don't feel bad leaving the thing on "low" setting if that works best for you. You will find it is a unique sensation: imagine a mixture between a tingle and a pinch, but different from both.
When I first tried electrostim, I was immediately fascinated by this interesting and ambiguously pleasurable new sensation, but it wasn't immediately clear to me how to incorporate it into sex or masturbation. This took some more time and creativity. I recommend that if you are trying this out, you first explore the sensation itself without trying to force it to be sexual. Then, once you are comfortable with electrostim, start thinking about ways it might be nice to add to a sexual experience.
Even once you are enthusiastic about trying electrostim, I would not blame you if you looked at these toys in their packaging and failed to overflow with consumer confidence. When I am shopping for sex toys, either online or in a store, nothing turns me off more than those walls full of cheap toys that always come in identical cardboard or clamshell packaging covered in incredibly cheesy softcore porn images. Depending on the seediness of the sex shop, this section might contain dildos made of questionable materials, anal beads that are impossible to clean (attached to a white nylon string), bondage equipment that clearly would not restrain anyone, and/or awful numbing lubricants. Sometimes there is good stuff there too, but like an internet hookup site, you have to sort through a lot of depressing sleaze, and it's not a good idea to raise your expectations too high.
Given my experience with such places, I was somewhat skeptical of of the "Fetish Fantasy Series" Shock Therapy units from Pipedream (solely based on the packaging and presentation). Both the Cock Sock and the Sack Strap units are sold in bland looking cardboard boxes with bored looking blindfolded heads. The brand "Fetish Fantasy Series" is also used for a variety of cheap versions of ambitious toys, which always makes me skeptical. In short, this toy might well be found on the Wall of Dubious Sex Toys, which is not where I would go to look for a reliable tool to electrify my testicles – but only gently. Even though I generally enjoy electricity play, if I saw this toy for the first time in a seedy sex shop with nobody's endorsement, someone would have to pay me to try it.
As it turns out, I found this toy in a reputable online sex shop, and someone did pay me to try it. I was surprised (one might even say shocked) to find that both Fetish Fantasy Series electroplay toys I tested were really fun to play with. I highly recommend this series of toys to people who are new to electrostim and want to try it out for the first time.
I tried the "sack strap" and "cock sock" units. Both of the toys include the same base unit to control the electricity, an attachment to plug into the base unit, and a blindfold. The blindfold is only sexy if you're really into those paper-thin plastic eye masks they give out on airplanes. You will probably want to throw that away. But don't get discouraged! It's just the packaging and accessories that are cheap and flimsy. The electricity unit is quite well designed, and is a fun way to work electrostim into your routine.
My favorite part of the toy is that the electricity control unit has two electrodes built in, so that it can act as a hand held shocking device independently of the attachments that come with it. This is great for me, because I often want to add some electroshock when I'm already halfway through masturbating, and I don't want to stop and fiddle with any wires. Most cheaper electroplay units require you to attach contact pads beforehand, which takes time and makes it difficult to change attachments quickly. This unit can use those contact pads, but you can also just grab the thing in your hand and press it where you want to shock. The simplicity and speed of this is the key for me; I can test the intensity out on my arm, move to my nipples, and then down to my penis and testicle all in a few seconds.
The basic controls of the electricity control unit are simple and intuitive: an intensity nob, and a "fast/slow" switch controlling the frequency of the pulses, and an "in/out" switch controlling whether the electricity is sent to an external attachment or to the electrodes on the control unit itself. Although I didn't personally find the external attachments as interesting as the base unit, they expand significantly what you can do with the toy.
The cock sock involves two conductive sleeves, one for the cock and one for the scrotum. These sleeves themselves become the two electrodes. Because there is a large surface over which each electrode touches your skin, the current is spread out and the sensation is less intense than it would be using smaller electrodes. This is a good attachment to try if you like the idea of electrostim on your genitals but you aren't really turned on by pain. This gave me an odd, interesting feeling in my cock, and the shocks felt more intense as my cock got hard and as I touched the sleeve more. Squeezing the sleeve around the cock can make the shocks more intense by improving the electrical contact, which is an interesting way to control the sensations.
The sack strap mainly involved two electrodes attached to conductive pads with adhesive, which you can stick anywhere on your skin. Do not feel obligated to put these on your scrotum! They can go pretty much anywhere. Just try to keep them fairly near one another, and never put your heart between the electrodes (for safety). These pads can let you apply just the right amount of electrostim to any sensitive area while your hands are otherwise occupied. The strap that is included to wrap these electrodes around a scrotum is made of such cheap plastic as to make it pretty unappealing, but any other strap could serve in its place. I would prefer to use the adhesive that comes on the pads, or to replace the strap with a cord or belt made of a sexier material.
All in all, these are great toys to try out electrostim. Each one can be used in several ways, and the shocker included in the control unit is great sex toy in its own right. This is a great starter toy for electrostim beginners; electric shocks produce unique sensations that aren't for everyone, so it's a good idea to start out with a relatively inexpensive like this to see if you are interested in exploring further. If you can get past the uninspiring packaging and flimsy accessories, you will find a great, lightweight, portable beginner electrostim setup that you can take right into the bedroom and have fun with immediately.
MISSING PRODUCT ID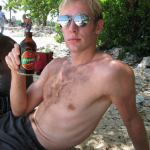 Ned Would
Ned Would is a bay area queer geek with a background in experimental Physics and a very dirty mind. He has been involved with the porn industry since 2010 as a performer and adult industry web developer, providing software support for independent performers and small studios (including, for a while, his own DIY porn site). In 2011 Ned created a biometric buttplug capable of wirelessly streaming live data about muscle contractions, heartrate, and other physiological signals of arousal and orgasm to a nearby computer in real time. Ned's work in the adult industry focuses on fighting stigma, created a safer work environment, and increasing performers' agency over their role in the adult industry. He is currently working on a suite of privacy and security tools designed for adult industry performers and studios.
8 Articles