As soon as I learned that Lovehoney, makers of arguably the best cunnilingus toy for women, was producing a toy for men, I was thrilled.  I've seen many lovers clinch their thighs and point their feet in delight while experiencing the exquisite pleasure of 1,000 tongues gently flicking their clit — and I wanted some of that on my cock!  I was SO ready for this toy that when it finally arrived I went '…huh?!  That don't look right.'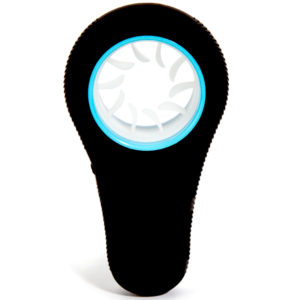 The toy uses virtually the same rubber-tongued strip, but simply inverts to caress a small band of your penis.  It looks like a turbine or part of a jet engine — something you would think twice about sticking your stuff through.  But it was from the maker of the woman-shaker, so I brushed aside my initial concerns and took it back to my 'office' for review. 
The first bad sign was that I had to focus on something entirely different than the toy, because every time I looked down at the turbine my cock went limp.  When I was finally ready for action and slipped into the swirling ring of tongues, it felt like butterfly wings fluttering around my tip.  And while interesting, for sure, it was only faintly erotic and not at all engaging enough to conjure an orgasm.  I moved it back and forth, thinking something might develop from rapid movement along the entire staff.  Then I tried to slow the pace.  Then I changed the band of tongues to the more rigid version, hoping more friction would provide the missing lift.  I altered the volume of lube…nada.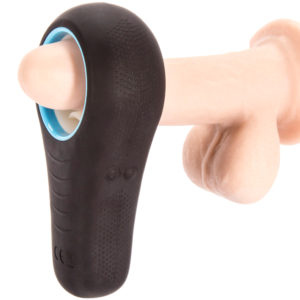 Sadly, The XT for men looks and feels like a toy designed for women and then repackaged for men.  It feels like a lazy effort to port the one-hit wonder for women over the mens market.  I kept thinking it would be interesting to have a whirling band of tongues lining a sleeve, but this iteration was completely useless.  One wonders if anyone at Lovehoney seriously tested this toy and, if so, whether they had a cock.  It would be more entertaining and pleasing to to stick my tongue or finger into the XT, but a sex toy this is not.  The Sqweel XT did do one thing for me: it made me squeal — but not in a good way.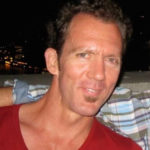 Magnus Sullivan
Magnus Sullivan has been at the forefront of technological and cultural shifts for more than 20 years. In 1993 Magnus founded eLine, one of the first system integration firms in San Francisco, bringing some of the biggest brands in the world online. One of his first clients was the storied progressive adult toy reseller, Good Vibrations. This was his first foray into the world of adult and he never looked back, partnering with the powerhouse, Game Link, to help create one of the most formidable companies in the online adult market. He has created two of the most awarded and recognized movies in the adult industry ('An Open Invitation' and 'Marriage 2.0', which won The Feminist Porn Awards coveted 'Movie of the Year' award in 2016) and recently launched www.manshop.com, a reseller of sex toys for men, and www.betterthanthehand.com, a sex positive blog that promotes male masturbation and discusses the various social issues associated with it. Sullivan has written extensively about the need to expand and enhance content production in the adult industry and is also the author of 'Better Than The Hand: How Masturbation is the Key to Better Sex and Healthier Living'. He is a fourth-generation SF-native, lives with his wife and children in the San Francisco Bay Area and enjoys kite boarding, skiing, triathlon, cooking, reading, writing and just about everything else that engages his mind and his body.
35 Articles