The great opportunity to incorporate toys into our partner sex is generally lost because we often approach the topic with the wrong perspective: it's not about purchasing toys that are marketed as 'Couples Toys' that will magically induce orgasms where none existed before, but rather it's about incorporating your solo sex practices into your partner sex. 
We tend to approach 'Couples Toys' with a consumerist mindset, purchasing toys like valentines gifts to provide a quick charge to our sex life and viewing them as technological shoe-horns for orgasm.  The key is to think of toys as providing a unique way to connect with, learn from and teach each other about the most intimate aspects of your sex life.  If you view toys as an aide in creating an experience through authentic emotional presence and vulnerability with your partner, almost any toy you introduce will not only create a memorable moment, but it will open up a vast landscape of sexual discovery and improve your understanding of each other in ways that extends beyond the bedroom.  More importantly, it makes it easier to talk about and try new things, and the exploration of new interests is a critical part of maintaining a great sexual relationship over time.
Bringing Your Solo Act into the Bedroom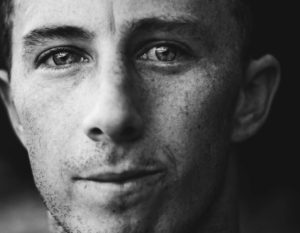 Many women are extremely turned on by watching their man masturbate.  If you are lucky enough to have a partner who enjoys this, incorporate some of your toys into an evening where you masturbate for her.  And reciprocate (always reciprocate!) by introducing her favorite toy to ensure she has an orgasm, too.  Watching each other fantasize and orgasm before one another is not only an incredibly intimate and erotic experience, it is also a fantastic way to teach other what you like and how you like it.  You might surprise and delight each other with your preferences, facial expressions, body movements and sounds.  You will almost certainly find that your partner touches herself very differently than you do!  Touching yourself in the presence of your parter removes the gameplay of partner sex, opens the portal for your partner to see you in (what some experience as) a very vulnerable state and shows them how you experience your body unfettered by pressure to perform.  You're not trying to impress anyone because no one knows how to pleasure you like you. 
If you are not already very familiar with each other masturbating before each other, 'couples toys' can create awkward scenarios where neither party is experiencing the sexual euphoria promised by the toy's marketing department.  So before diving into the list of toys for couples, let's look at an example of how you can use what might already be in her box and yours to create a highly charged evening and set the foundation for ongoing creative exploration in bed.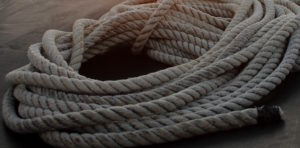 Seat her in a chair and tie her wrists to the legs or behind her so that she cannot reach for you.  Place a blindfold over her eyes.  Unbutton her shirt a few notches so that her bra shows.  Walk around her and play with and grab her hair, but don't let her touch you, and tell her how you love her tits, her nipples, her lips, her hips.  Stand behind her and tell her, in detail, how each part of her body attracts you and tell her what you will do to her — and what she will do to you.  Run the tips of your fingers down her neck, shoulders and arms and continue around her hips, down her inner thighs all the way to her ankles. 
As you get hard, tell her about how she's making you hard.  Tell her how you get hard when she bends over to tie her shoes, how you get hard when she leans back in the shower to ring her hair dry, how you get hard watching her put make-up on. Lift her blindfold and let her see your bulge.  Reach inside your pants and grab and massage your cock in front of her until you're rock hard. Then let the tip of your cock pop out of your pants.  Slowly unbutton your pants but don't take off your underwear and ask her if her pussy is wet.  Ask her if her pussy is really wet.  Ask her if she wants to touch your cock, suck your cock and have your cock inside her.  Pull your underwear down just enough to let her see your balls and hard cock — and stroke yourself slowly.  Put the blindfold back on.   If she's a little kinky, some gentle slaps on the cheek and some tugs at her nipples might be in order.  Continue to stroke your cock as you run your hand along her thighs.  Tell her to spread her legs and slide your hand between them and tell her you will stroke her pussy if she asks you to.  Ask her if she wants to see you masturbate. She will say yes.  Tell her you want to hear her say yes again.  Pull her head towards you and let her lips touch the tip of your hard cock.  Walk behind her and whisper in her ear and tell her how often you to masturbate to her.  Run one hand through her hair and, with the other, turn on her toy, let her hear the buzz as you wrap your hand around her throat.  Tell her you want to masturbate with her.  Tell her you want her to look at you and watch you. Run the toy down her neck, around her nipples and down her chest and between her legs.  Ask her if she will masturbate with you.  She will say yes.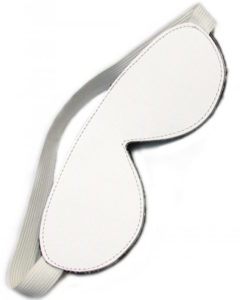 Untie her and tell her to take the toy with one hand and tell her to hold your hard cock with the other.  Move in front of her, wet your fingers and tell her to remove her panties and run your wet fingers gently around her labia.  Lube your cock and stroke it slowly for her and tell her that you are thinking of her lips around the tip of your cock and your tongue and lips kissing and licking her beautiful pussy.  Swirl the Tenga Egg around the tip of your cock and then pull it slowly down the entire length of your shaft, thrusting into it and looking right into her eyes.  If you're more adventurous, you can use a sleeve with the Tenga — the visual should be just as hot for her as it feels good for you.  If she closes her eyes, tell her to look at you.  Look at her and work to time your build with hers.  As you're getting close, stand in front of her, tell her how sexy she is, tell her how beautiful her pussy is, tell her how much you want to kiss and lick and fuck her beautiful pussy.  When she's ready, tell her to come!  Tell her you're coming and that she must come with you.  She will.
Depending on your perspective, this scenario might seem vanilla-boring, or wildly over-the-top, or just about right.  If you or she has a particular fetish or interest, build around that. But you get the idea: place the toy in the background and put the experience, the connection, the intimacy and honesty in the foreground.  Build a story that incorporates toys, but don't make it about the toys.  Now it takes a little forethought to make things like this work, of course.  In the case above, you need to know what her favorite toy is and have consent to access to it.  You need to have a Tenga Egg and lube on hand, an appropriate chair, cuffs, blindfold and you ask her to wear a skirt or dress to make things more comfortable.  You might also consider a feather, pinwheel and other items to accent the mood.  But it's hardly a lot of work, and it's certainly worth it.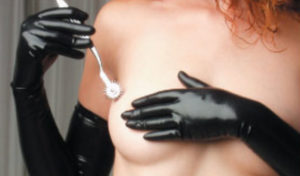 Watching each other masturbate is one of the more intimate sexual and personal experiences you can share as a couple, and it sets the foundation for much more natural curiosity to explore each other and explore together.  Once you have this base, you can talk about other things you might like to try.  Maybe she wants to be tied up?  Maybe you do?  Maybe she'd like to be spanked, or perhaps she'd like to use a strap-on with you, or use the Hitachi Wand together, or maybe it's something really simple, like a cock ring.  Electrostim is also a unique and amazing way to introduce something very different and intensely satisfying into your sex play.  You can blindfold her and alternate sending intensely erotic low-voltage wages through her body with nasty talk and hands on skin.  You can use ice and something warm to alter sensation in other ways.  Get creative and you'll not only captivate her imagination, you'll transport her into an ecstatic state.  Who doesn't want that?  And who isn't thankful for that?
If your partner is curious but shy, there are more subtle ways to introduce sex toys and other aides.  One thing that always entertains and amazes is the penis pump.  You can introduce it as sort of science project and watch together as your limp dick grows into a massive, vein-popping sex rod.  The process alone should be enough to move her from a state of nervous curiosity to one of fascinated desire to suck and fuck your member that has so magically transformed before her eyes.  The same thing is true of almost any toy: try introducing it while fully clothed, unpacking the toy together and talking about it as you transition from conversation to implementation, running (for instance) the vibrator over her clothed nipples and thighs, slowly undressing her as she shows increasing comfort.
Manshop's Best Toys for Couples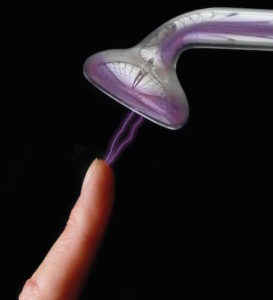 I've found that toys marketed as couples toys are usually less effective than creative use of toys and other aides designed to work specifically on one person at a time or (as is the case with BDSM and electrostim toys) are not generally categorized as 'couples toys'.  But the key point here is that 'toys for couples' shouldn't be seen as sexual gimmicks, but rather as opportunities to have a more natural and honest and deep sexual connection with your partner.  So while you can certainly incorporate toys that are specifically marketed as 'Sex Toys for Couples,' I hope this article shows that any toy can be a great way to improve your sex life.  
With that in mind, my list of toys for couples is very different from other lists.  But if you follow the advice below, your toy purchases not only will go a long way but very likely will change your life!  As always, use the basic guidelines outlined above and below and layer this advice with your own creativity and interests.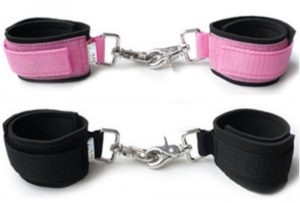 While restraint is not everyone's cup of tea, some version of it seems to work for most.  There's something very liberating, relaxing and exhilarating all at once about surrendering your body to another.  When you tie someone up, however, you owe it to them to spend some time thinking about and preparing for the experience.  Take your time and build and make sure the environment is comfortable.  And while 'BDSM' has some dark connotations, I think of it more as a grown-up version of playing doctor: one party often submits and grants permission to another to explore and stimulate their body in new and surprising and sometimes unnerving ways.  But everything is always consensual and keen attention is always paid to the state of the person bound.  The underlying idea here is to have fun, to feel good and to be completely enveloped in a real-time erotic tale where you are the central character.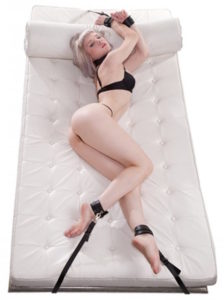 People react differently to being tied.  Some love it, some hate it, some like their hands tied but not their legs, etc..  So be sure you know what your partners' feelings are and be very aware of her response as you proceed.  Once tied, it's all up to your imagination.  I like to start by spending some time touching various parts of her body to awaken all of her erogenous zones.  I like to have some ice nearby that I can pop into my mouth and then breathe cool air over her nipples, licking the tips with a frozen tongue just after I've visited her with my warm, wet mouth.  When she's wet and excited, I like to leave the room for a minute and let her imagination roam.  I like to return with something different: perhaps a paddle (if she's on her belly) or a feather or pinwheel or silk.  Then I'll leave again and return with some hot wax, for instance.  I won't touch her pussy until she begs me to, but when I do, my hand and fingers are well-lubed and warm and I'll finger the folds of her lips and move my palm over her pussy like a wave before moving to insertion.  I also like to combine the use of a clitoral stimulator with a G-Spot stimulator when I've got someone tied up.  Again, take your time and let the soothing, yet exciting, buzz travel her body and swirl around her pussy before you touch it, let alone penetrate.  Because the stimulation can be particularly intense in this case, pay special attention to her response.
Over the Door Wrist Restraints and Blindfold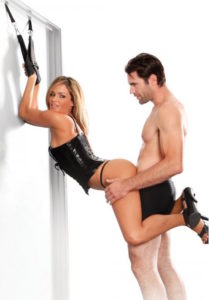 Blindfold and tie your partner and tease her with breath, commands, gentle slapping and nibbling and light, suggestive finger and pussy licking.  I like to run a really soft fabric up her thighs and hips and over her tits and shoulders and then slide up to her neck, hold it tight and kiss her as my fingers caress her pussy.  I'll play with her like that for a while until her legs start to wobble and then I'll introduce a vibrator and bring her to orgasm.  When she thinks it's over, I just lift her up and fuck her against the door, telling her to kiss me but staying just out of reach of her lips.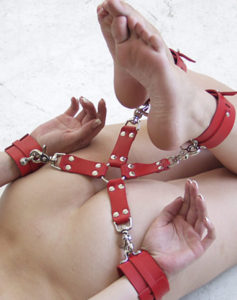 Things can get very intricate and complicated as you move up the bondage ladder, but there are a number of products that substitute ties and straps for rope to enable those unskilled in advanced rope-tying skills to still enjoy the experience.
There are many, many different options here, so take the time to explore.
Clitoral and G-spot Stimulators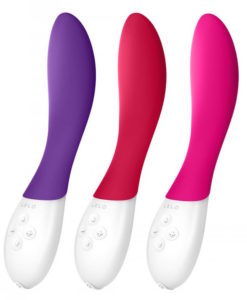 While you might want to start with something you know she likes, it never hurts to venture beyond the known.  A common mistake men make is to go straight for the pussy and start stimulating the clit.  Do not do this! – unless she explicitly asks for this, of course!  Explore all other aspects of her body and only gradually suggest and tease interest in her pussy.  Straight to the clit = overstimulation and buzz kill.  Also consider stimulating different parts of her body as you finally do work your way to her clit.  For instance, applying pressure to her nipples, gentle choking, temperature changes (use of ice while kissing), or sending a soft electrical buzz through her body with an electrostim toy are all ways to diverting focus and allowing the pleasure to build and spread.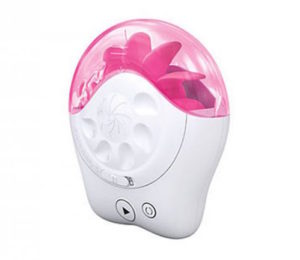 This little wonder does the work of a thousand dedicated tongues.  This is a great toy to compliment your own efforts.  Find out which speed feels best and how much pressure to apply and use the Sqweel when you need to come up for air or change things up.  You can also use a dildo or insert your fingers while the wheel whirls.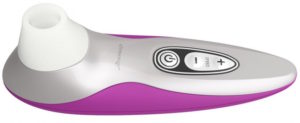 The Womanizer was the best selling toy for women in 2016 and its design suggests it does one thing very well: stimulate her clit.  Unlike other vibrators that might feel good on just about any other part of her body, The Womanizer is singular in its purpose.  This is an excellent toy to introduce if you've done a good job of turning her on without over stimulating her.  I like to use The Womanizer as I pet her pussy with lubed fingers, tease her with insertion and fondle her labia with my fingers, waiting until she's really turned on before finally putting my fingers inside and applying The Womanizer.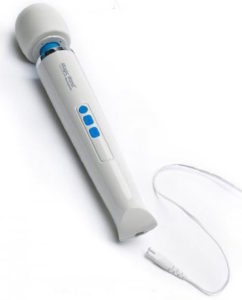 The benefit of the cordless Wand is that you can walk around with it, teasing her from all directions.  What makes the Wand unique is that no other toy works at quite the same frequency, so the Wand stimulates muscles unlike anything else on the market.  This is also why some women find this toy too powerful.  If that's the case, the Mystic Wand is a great alternative.  The great thing about this toy, however, is that (unknown to many men and women) it's also a great masturbator for men!  Yes, if you place the head of the Magic Wand between the tip of your cock and your shaft (the frenulum) and move it up and down slowly, you will most definitely have an orgasm.  The Wand's effectiveness for both men and women makes it one of the best — and most under-appreciated — couples toys.
Great Combinations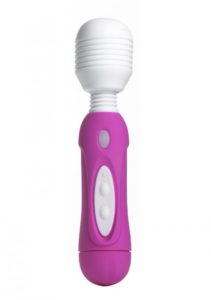 Things really get interesting when you start to use multiple toys that compliment each other.  Look at your collection of lube, vibrators, sleeves, didos, nipple clamps, blindfolds, restraints and other toys as colors that, when combined, create something entirely new.  One of my favorite combinations is the Mystic Wand and Lelo's Mona G-spot stimulator.  The Mystic Wand delivers a great buzz and the Mona has just the right bend and knob for good G-spot stimulation.  By using these toys in tandem, starting off with low intensity vibration and working your way up, you can deliver incredibly strong orgasms.  I like to use the Mona externally for a while, massaging her vulva and perineum while licking and sucking her labia and  gently pinching her nipples.  I'll then slowly transition to insertion and slide the Mona into position.  Once she's comfortable with the insertion and intensity of the Mona, I'll add the Mystic, moving it around her shoulders, tits, hips, inner thighs and vulva, gradually working my way to her clit based on her verbal and physical response.  Note, The Womanizer also works really well with the Mona.
We Vibe 4 Couples Silicone Dual Vibrator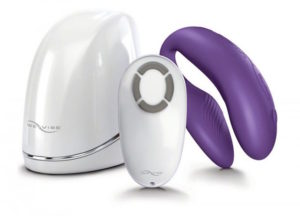 My favorite way to use the We Vibe is to tease her with it for a LONG time before I get involved.  Let her find the best position for and enjoy this toy before you even consider disrupting her build, as penetration will move the toy and likely derail her very pleasurable trip. I like to wait until she's already in the middle of her orgasm before I enter the picture and, when I finally do join in, I like to start slowly and let her crest the peak before I enter.  Let the sensation of you filling her up complete her first orgasm or let the tip of your cock barely enter and then pull out until it's clear she wants all of you inside.  With the toy continuing to buzz as you penetrate, you might find that, far from climax, she is just beginning with the experience. Once you enter, one of you might need to hold the toy in place and apply pressure to get the most out the We Vibe.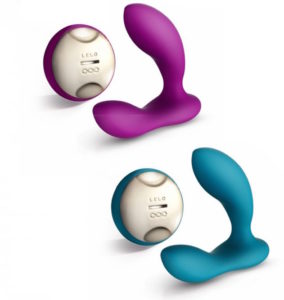 This is a GREAT toy that both of you can use — although not at the same time or, easily, in the same session.  What makes the Hugo great is that it stays in.  Most prostate massagers will fall out when you move if your hands aren't on it, but the Hugo likes to stay put.  The remote control allows either of you to adjust stimulation.  A great way to use this toy is to lie on your back with the toy inside and have her mount you.  Give her the remote and let her play with vibration as you use a vibrator on her.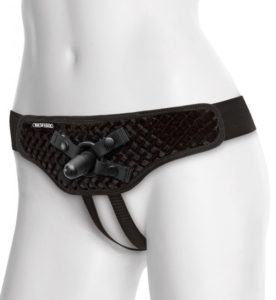 This is also a great opportunity to introduce a Strap-on.  I have motto that I call 'The Golden Rule of Anal Sex':
If you want to stick your stuff in someone's ass, you'd better know what it feels like to have something in your ass.
Once you do, you'll understand how over-zealousness and inattentiveness can quickly create a horrible sexual experience for your partner.  Many straight men love getting pegged by their lover, as they're able to experience the intensely satisfying feeling of anal penetration in a very familiar (that is, 'straight') context.  And many women love to comply with the request and also find it extremely erotic to bend social norms.  This is a great time to have her also use a vibrating butt toy as she slides inside you.  If you're new to this, start out with something small, like a strap-on with a butt plug, and work your way up as you grow comfortable.   This can be just as hot for her as it is for you, which makes strap-ons one of the best toys for partner sex.
Vibrating Double Penetration Toys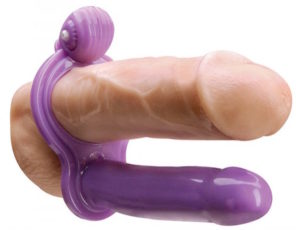 A product that falls between both 'cock ring' and 'extender' is the 'My First Vibrating Double Penetrator'.  What's great about this product (and others like it, such as Nasstoys' 'Double Penetrating Vibrating Cockring') is that it allows you to avoid the complexity of the harness when she wants to be DP-ed.  And you can adjust the toy to be positioned either above or below, allowing you and her to easily decide what goes where.  If you're uncomfortable with any aspect of wearing a harness, vibrating double penetrating cock rings are effective, affordable alternatives.
Electrostim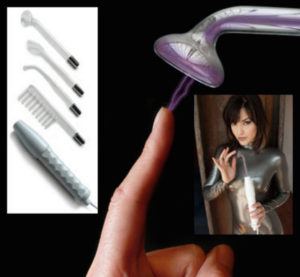 This is another form of stimulation that conjures images of lightning bolts in Young Frankenstein, but if you're using quality toys, the sensation is delightful and has great range.  My favorite Electrostim toy/kit is Kinklab's Neon Wand, but I've also really enjoyed the Shock Therapy Sack Strap & Cock Sock.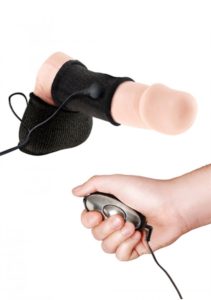 The Neon Wand is also an excellent example of a toy/device that, for me, is only appropriate for partner sex — and what an incredible couples toy it is!  Combining restraints, a blindfold and The Neon Wand needs to be on everyone's bucket list.  The Neon Wand comes with a variety of different attachments that deliver different sensations, and the combination of different delivery modes with the ability to adjust the charge enables you to create either a soft humming sensation or a sharp crack – and everything in between.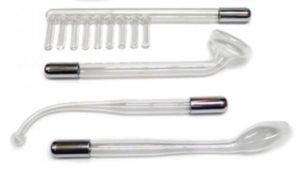 Just the anticipation of an electrical charge hovering about is enough to excite the entire body.  I definitely recommend experimenting on yourself first to understand how the different attachments and charges affect sensation.  If you're lucky enough to own both toys, you can use the Neon Wand on her and she can hold the remote charger for the Shock Therapy Sack Strap & Cock Sock and return the favor.
Masturbators and Cock Stimulators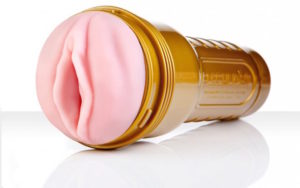 We spend a lot of time testing and writing about different sleeves.  My three favorites are the All-In,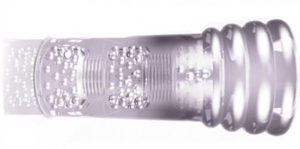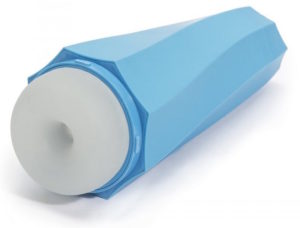 and the Fleshlight (pictured above in gold).  If you want to understand the differences between the Blewit and Fleshlight, read my review.  They're both excellent sleeves with very different +/- factors.  One of my favorite strokers is the All-In: it's effective and affordable.  I particularly like to use it with the Tenga Egg.  As I describe in detail, the key to strokers is variation in texture, lubrication and temperature. 
All-In Blowjob Stroker+ Tenga Egg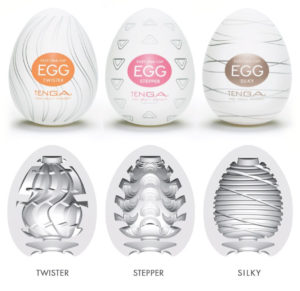 Just as combining toys with women works well, using toys that provide different types of stimulation for men is also important.  One of my favorite combinations is to use the All-In with the Tenga Egg.  The All-In is an open-ended stroker, which allows you to pop the tip of your cock out and, say, swirl a lubed Tenga Egg around it.  If you can have her swirl the Egg while you stroke it's even better.  By using an organic edible lube, she can suck the tip while she or you strokes and then remove the All-In to suck and lick your shaft.

This is a totally under-rated toy and largely under appreciated for its scope of use: it's basically a sexual magic act.  Sure, it can help you get an erection if that's an issue and, sure, it can pump you up a bit if you want to gain a little size.  But it's really just an amazing thing to watch work: your cock transforms from a helpless, limp, gelatinous blob into a vein-popping staff of solid steel — right before you eyes and (here's where it gets really interesting) HERS!  Yes, we tend to forget the novelty of erection because we have them all the time.  But many women LOVE to watch the process and get really turned on watching it, feeling and ultimately sucking and fondling and fucking it.  Incorporating the pump into your play routine is a really fun way to introduce toys into your sex life.  My favorite is the Robo Suck 3 (pictured above).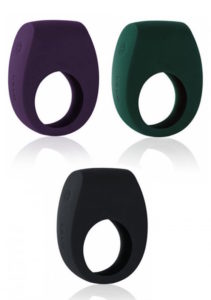 Cock rings serve a couple of purposes: they help some men stay hard and they add extra buzzing sensation during penetration.  Try using the buzzing ring as you would a vibrator, stimulating her nipples and labia and clit as a warm up before placing the ring around your cock and inserting.  For best results, I like the make sure the buzzing ring remains in contact with her clit during intercourse.  You can also play with the process of putting on the ring by having her 'lubricate' your shaft so that she can easily slide the ring on.  I like Lelo's Tor II, pictured above.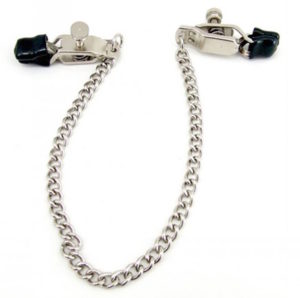 In addition to the fact that many women love a little pressure on their nipples, these can also be used extend and spread stimulation to avoid singular focus on, say, her vagina.  They're also great to use when restraints are involved.  Unless your partner likes a specific tension at all times, it's important to consider clips that allow you to easily alter the tension.  I like to use clips to tease her, letting the clips sandwich her nipple gently before removing them and attaching them to another part of her body.  I'll then return to let her feel the full tension on her nipples before removing them again.  At some point, I'll attach them, tugging on the chain when I want to divert attention. 
Whether you want to add a little length or girth or texture to your cock, extenders can add novelty to intercourse in a variety of ways.  The thing I look for in an extender is a softer silicone to give both of us a more natural feel.  If you're into role play, blindfolding your partner and fucking them with an extender can really add to the experience, particularly as she reaches to guide your cock in and feels something totally new.  While there are many products to choose from, I like the Mansizer (an unusually good product with an unusually bad name).
Silk Handkerchief, Scarf or Restraint
I'm not sure if this should be a 'toy' or 'lingerie' or 'a sex aid,' but whatever you want to call it you need one.  A silk handkerchief feels great everywhere, but it delivers on an entirely different level of pleasure when used to stroke and pet our most sensitive areas.  I was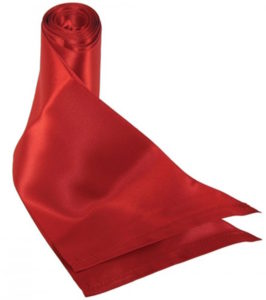 first introduced to its potential by a woman who gave me one of the best blow jobs of my life.  She used a silk handkerchief to stroke my shaft while the tip of her tongue flickered around the head.  She would slowly integrate some full lip sucking of the tip as I became increasingly excited, using more saliva until she was ready to take all of me in.  As she slowly swallowed my entire cock, she would move the silk scarf from my shaft to my balls as she lowered. Rubbing my balls with the scarf, she went to town with just the right variation of deep throat, licking and sucking.
Years later I used a silk sash to rub my lover's entire body, only moving to her nipples, neck and vulva after I'd explored all of her curves with my silk touch.  Once she was relaxed, I then moved to her inner thighs and pussy.  The soft silk gently caressing her was one of the most sensual acts of foreplay she'd ever experienced.
While I've pointed out some specific products above, you should take the time to explore the full breadth of our catalog for products that match your particular interests and budget.  And above all, don't look for a product marketed as a couples toy when searching for ways to include toys in your partner sex.  Get creative and build stories and scenarios and then find the tools you need to realize it.  As my last entry proves, sometimes a $10 piece of cloth is exactly what you need.
And as your browse for toys, please don't hesitate to let me know if you have any questions.
P.S. don't forget about Lubes & Condoms
This article is an excerpt from the book, 'Better Than the Hand: How Masturbation is the Key to Better Sex & Healthier Living.'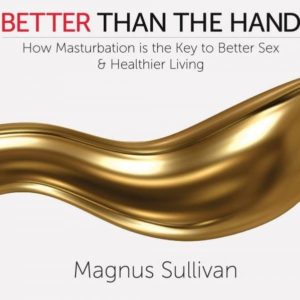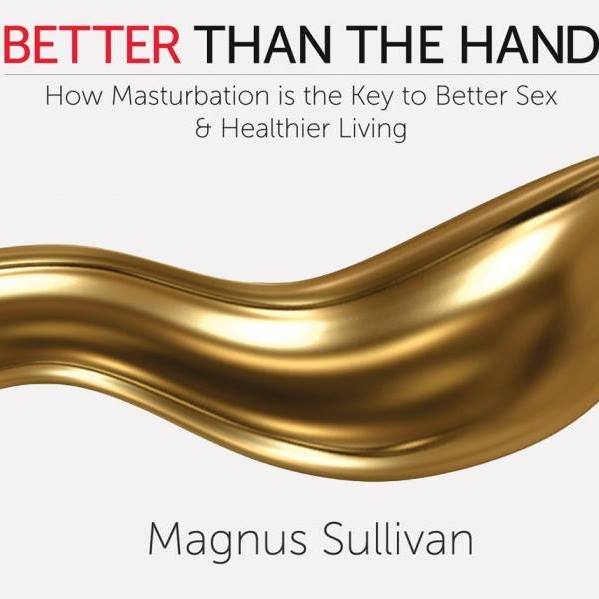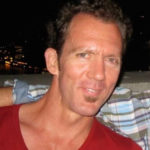 Magnus Sullivan
Magnus Sullivan has been at the forefront of technological and cultural shifts for more than 20 years. In 1993 Magnus founded eLine, one of the first system integration firms in San Francisco, bringing some of the biggest brands in the world online. One of his first clients was the storied progressive adult toy reseller, Good Vibrations. This was his first foray into the world of adult and he never looked back, partnering with the powerhouse, Game Link, to help create one of the most formidable companies in the online adult market. He has created two of the most awarded and recognized movies in the adult industry ('An Open Invitation' and 'Marriage 2.0', which won The Feminist Porn Awards coveted 'Movie of the Year' award in 2016) and recently launched www.manshop.com, a reseller of sex toys for men, and www.betterthanthehand.com, a sex positive blog that promotes male masturbation and discusses the various social issues associated with it. Sullivan has written extensively about the need to expand and enhance content production in the adult industry and is also the author of 'Better Than The Hand: How Masturbation is the Key to Better Sex and Healthier Living'. He is a fourth-generation SF-native, lives with his wife and children in the San Francisco Bay Area and enjoys kite boarding, skiing, triathlon, cooking, reading, writing and just about everything else that engages his mind and his body.
35 Articles