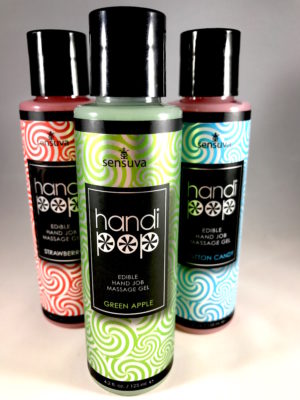 I approach flavored lubes with a great deal of skepticism, because my earlier encounters left me with…ummmm…a bad taste in my mouth.  But a number of producers assured me that huge progress has been made in the quality and palatability of edibles, so I sat down for a blind taste taste of five big players in the flavored lube market: Wicked, System Jo, Sliquid, Sensuva Handi Pop and Swiss Navy.  Wicked is transitioning from a leading adult movie producer into a novelties company and they're leveraging their savvy product development and marketing skills to parlay their couples-friendly brand into this new market; System Jo has been acquired by a group with new money and new vision and is working hard to resuscitate and rebrand the company;  Sliquid has long been the leader in hybrid lubes a darling of the sex-positive community for the emphasis on organic, healthy lubes; Sensuva's Handi Pop looks and sounds  interesting and the company is pushing the line as responsibly made and part of a larger 'sexual wellness' effort; and Swiss Navy is one of the best lubes in the world and has more to risk by damaging its reputation for quality than anyone else vying for this market.
There are three basic features that I look for when evaluating an edible, flavored lube:
Accuracy of taste: in short, does it really taste like the flavor it claims to represent?

 

I've tasted lubes that are totally pleasant, but don't taste like the flavor they claim to capture—they're more generically sweet and easy on the palate.

 

But the key here is whether it is what is claims to be;
Presence of a metallic or chemical after-taste:

 

Assuming it represents a flavor well, my next question is whether I can detect any unpleasant flavors.

 

For me, this usually manifests as a slight chemical or metallic undertone;
Consideration for female hygiene and ingestion: whether it's going on her pussy and in my mouth or on my cock and in her mouth, I'd like to think that it not only tastes good, but it is good. Parabens and sugars are generally not good (particularly as they contribute to yeast infections and the growth of other unwanted bacteria), but sugars are hard to avoid when using flavored lubes.

 

There's also the generic 'Flavor' ingredient, which is an umbrella for a variety of different chemicals.

 

That said, some sweet lubes are better for her pussy than others, and you should always take this into account when using a flavored lube.

 

For more information on chemicals to watch out for in lubes, see here.
Why use a flavored lube?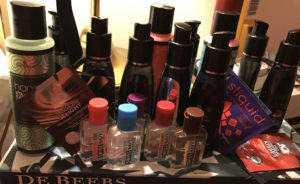 When considering the effectiveness of any toy or product, I like to look at whether the it offers stress-free and fun ways to enjoy new experiences. In this light, flavored lubes just might be the best gateway drug for sex there is. Dribbling lube over your cock and asking your partner to tell you which flavor they prefer is both fun and incredibly sexy! Seriously: when I received my first set of flavored lubes, I did just that: I squirted it over my hard cock and asked my partner what they thought of the flavor. Then I squeezed another sample over my cock and asked the same.  And again, until they had tasted them all. I approached it all very professionally and when they found a flavor they liked and started to devour my tasty cock, I had to literally pull them from me with an audible 'POP!' as their taught lips left the tip. 
By the time we had exhausted the options, we were so worked up from all the pent up passion that we went to town on each other! It was great for both of us!  And it was one of the most casual and pleasurable sexual builds I've had.
Another option is to mix flavors.  This creates not only interesting, personalized options, it creates even further anticipation as you create the concoction.  The entire process of opening the packets, extracting the lube, mixing it, testing it, trying it on them or your cock—it's so tantalizing you'll both explode in your pants just thinking about it!
To evaluate the lubes for this article, I first tested the lubes with friends in a non-sexual environment and then validated the findings by using them with my partner for oral sex. Some of these lines have more flavors available than the ones I tested, but I did review everything sent to me by the manufacturers.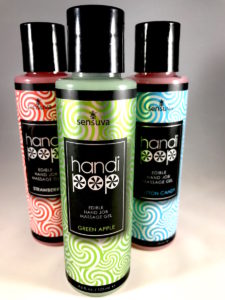 The Handi Pop line, although marketed as a flavored lube for hand/blow jobs, is formulated with food grade ingredients and is completely gluten, glycerin, paraben free and 100% vegan and animal cruelty free.  What is immediately noticeable about Handi Pop is the texture and color of the lube: it's thicker and more colorful and the texture, which keeps the lube in place, makes it much more interesting than the standard lubes.  It was a little like frosting—something I REALLY wanted to lick, slurp, suck and swallow!  I could tell by the way my partner enthusiastically sucked every ounce from my cock that Handi Pop would be a staple in my bedroom pantry.  Here is list of ingredients: Water, Dimethicone, Melaleuca, Alternifolia (Tea Tree) Leaf Oil, Propylene Glycol, Cellulose, Ptychopetalum olacoides (Muira Puama), Epimedium (Horny Goat Weed), Polyacrylate, Polyisobutene, Polysorbate, Gluconolactone, Sodium Benzoate, Potassium Sorbate, Sucralose, Natural & Artificial Flavors, (May contain +/-) CI 42090 (Blue 1), CI 15985 (Yellow 6), CI 26100 (Red 17).  Once you get past the list of laboratory-produced ingredients, Handi Pop was, hands down, the best edible lube!  Great flavors and textures are

Swiss Navy is one of my favorite silicone lubes, so I was eager to try their flavored line.  While Swiss Navy scored high marks for good taste on all their lubes (particularly the Strawberry Kiwi), I was a bit surprised by the long list of chemicals used and, in particular, the presence of PEG-8.  Just check out the standard set of ingredients in their flavored goods: Water, Glycerin, Cellulose Gum, Propylene Glycol, Sodium Benzoate, Sodium Saccharin, Potassium Acesulfame, Diazolidinyl Urea, Flavor (Aroma), Citric Acid, PEG-8, Disodium EDTA, Potassium Sorbate.  That said, Swiss Navy came in a sold second.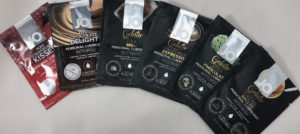 Although System Jo's flavored line does contain glycerin, they put effort into balancing the PH levels to counter the effects of glycerin. One thing I appreciated was the shorter list of chemicals used in their Gelato series: (Water (Aqua), Glycerin, Potassium Sorbate, Hydroxyethylcellulose, Flavor (Aroma), Sucralose, Sodium Chloride, Citric Acid).  But the presence of Polyparaben in their H20 Delight and Strawberry Kisses lubes was an eye-popper.  Parabens are a known carcinogen and, under Prop 65 in CA, require a warning to that affect on packaging.  The good news is that those two lubes were my least favorite anyway, so I based my evaluation on the Gelato line—which is excellent.  System Jo's 'Hazelnut Espresso' is one of the best flavors I've tasted and it was a crowd pleaser.  Creme Brûlée was also very strong.  Tira Misu and Mint Chocolate were edible, but they lacked the combination of great flavor that accurately reflects the description.  And it was this shortcoming that dropped System Jo from the #2 position. I would also like to see a little more viscosity to the lube.  Given the energy behind this brand and the attention they're paying to customer feedback, however, I have a feeling they'll be vying for top spot in a year or two.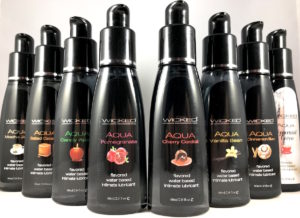 I have high hopes for Wicked's line of flavored lubes.  I've met a number of the sales reps supporting this line and I generally like the direction they're taking. The upside is that all eight flavors in this line are edible and many taste really good. The texture is a bit watery, however, and runs quickly while the flavors are a bit thin or subtle and often miss the mark—that is, their taste is generally not in line with the flavor marketed. The bottom line is that the product isn't quite there yet.  In addition to the issues noted, the decision to drop Wicked to the fourth position is based on the lack of a standout flavor in the group.  They're all good, but they're still looking for a great flavor. Here is the standard ingredient list: Water, Glycerin, Cellulose Gum, Stevia Extract, Olive Leaf Extract, Hydroxyethylcellulose, Tetrasodium EDTA, Citric Acid, Sodium Benzoate, Potassium Sorbate, Diazolidinyl Urea, Flavor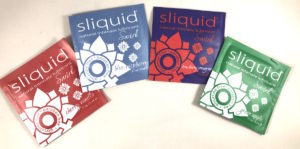 This is the hardest review to write, because I LOVE what this company stands for and the effort they put into creating outstanding, healthy and responsibly made lubes.  Just compare their list of ingredients to all of the above: Purified Water, Plant Cellulose (from Cotton), Cyamopsis (Guar Conditioners), Natural Flavoring, Aspartame, Potassium Sorbate, Citric Acid.  With the possible exception of Aspartame, if you're primary concern is the purity of what goes into your body, this is the lube you want to swallow.  But then…you don't. 
Sliquid would have been better off taking Pjur's lead and sitting this one out, because their flavors were all inedible.  The only flavor of the samples they sent that suggested its description was Blue Raspberry.  But even that (which briefly tasted like blueberry jello!) was quickly washed out by the bitter, chemical flavors that dominated all of their samples.  Unlike Wicked, which did not resemble the marketed flavors but at least tasted good, Sliquid's flavors were immediate buzz kills.  My partner actually spit two of the samples out and the majority of those who sampled their lubes were put off.
This article is an excerpt from the book, 'Better Than the Hand: How Masturbation is the Key to Better Sex & Healthier Living.'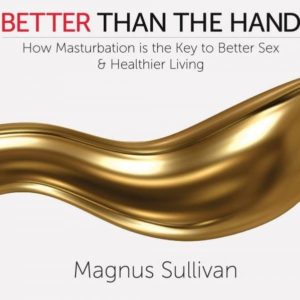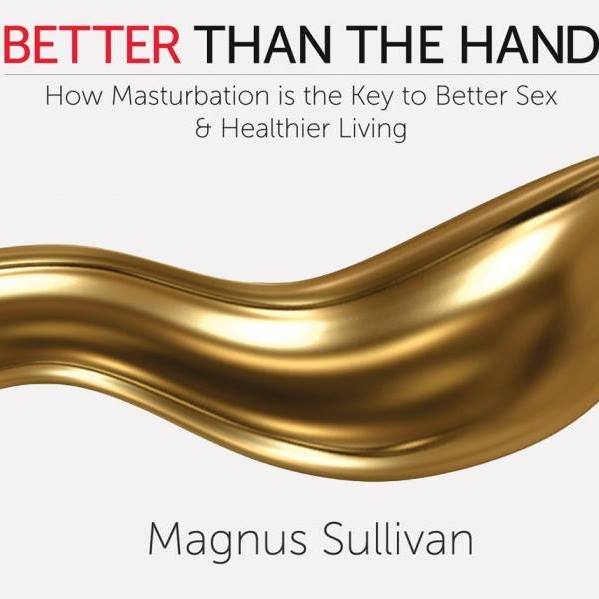 MISSING PRODUCT ID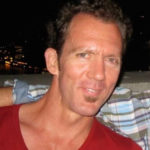 Magnus Sullivan
Magnus Sullivan has been at the forefront of technological and cultural shifts for more than 20 years. In 1993 Magnus founded eLine, one of the first system integration firms in San Francisco, bringing some of the biggest brands in the world online. One of his first clients was the storied progressive adult toy reseller, Good Vibrations. This was his first foray into the world of adult and he never looked back, partnering with the powerhouse, Game Link, to help create one of the most formidable companies in the online adult market. He has created two of the most awarded and recognized movies in the adult industry ('An Open Invitation' and 'Marriage 2.0', which won The Feminist Porn Awards coveted 'Movie of the Year' award in 2016) and recently launched www.manshop.com, a reseller of sex toys for men, and www.betterthanthehand.com, a sex positive blog that promotes male masturbation and discusses the various social issues associated with it. Sullivan has written extensively about the need to expand and enhance content production in the adult industry and is also the author of 'Better Than The Hand: How Masturbation is the Key to Better Sex and Healthier Living'. He is a fourth-generation SF-native, lives with his wife and children in the San Francisco Bay Area and enjoys kite boarding, skiing, triathlon, cooking, reading, writing and just about everything else that engages his mind and his body.
35 Articles