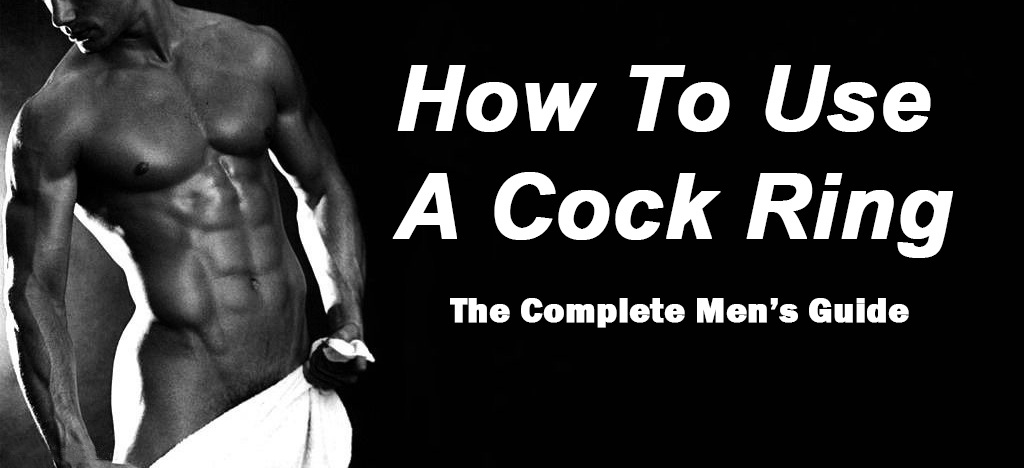 When I first started experimenting with cock rings the one question I never thought I'd have was 'how do you put them on?'  I mean, you just slide it down your shaft and 'bingo!' right? Little did I know there are a variety of different types of rings and a variety of different ways to use them. And if you don't have some basic information about their use, you can easily suffer the pains of squished balls, pinched balls, plucked pubic hair, incredibly tight fits and embarrassing fumbling in the presence of your sexed-up partner. Believe me, there's no better way to kill the moment than entangling your scrotum in a cock-ring knot. To avoid these scenarios, here is your complete guide on How to Use Cock Rings. 
How to Use Cock Rings: Where Can you Start if You're a Beginner?
Part of the issue is tied to the incredible selection of cock rings out there. They can be as simple as you like or they can play a supporting role in a more elaborate sexual performance. So let's start with the basics and work our way up.
The Standard Ring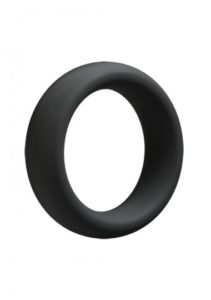 Cock rings work for a very basic reason: an erection occurs when blood flows into the penis faster than it flows out. Under normal circumstances, arousal causes the arteries delivering blood to the penis to expand and the veins removing blood from the penis to contract. When the arteries and veins return to normal size, you loose your erection. The cock ring works because arteries are much better at delivering blood than veins are at removing it, so by restricting the flow of both, you end up with more blood in your penis than the veins can remove. And voila! Erection!
For obvious reasons, cock rings come in a variety of sizes, so you need to experiment a bit to understand which size works best for you (packs with a variety of sizes are a great way to find what works). Cock rings also come in a variety of materials, although you can place them in two basic categories: elastic and rigid cock rings.  Elastic or flexible rings are made of latex, rubber or silicone.  Hard rings are often made of steel or some other rigid material—but the basic idea is that the ring does not stretch and expand with your cock, which means it can be dangerous if you don't know what you're doing. Because the basic risk of restricting blood flow to the penis is that you can damage your tissue if you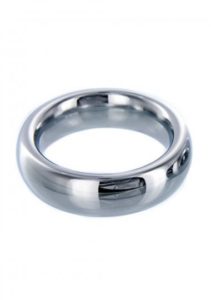 remain engorged/erect for too long. While the general guideline is to limit use to 20-30 minutes, you should remove it sooner if you experience any discomfort. The risk with hard rings is that they can be very difficult to remove if you expand beyond the size of the ring and, thereby, increase the risk of tissue damage. Consult a knowledgeable sales rep at a reputable store if you're considering using solid rings.
Cock rings like lube.  The rubber tends to stick and catch without it and you'll need to slide very delicate parts skillfully through tiny openings to get the full benefit, so make sure your ride has glide to slide. The most straightforward use of a cock ring is to simply slide it down your slightly lubed shaft and let it rest in front of your balls. That is, don't try to slip your balls through the ring to rest behind your testicles. The ring should be just snug enough to slightly constrict your flaccid penis but it should have enough elasticity to accommodate growth. Again, try a few different sizes: you can purchase sets with a variety of sizes to see what works best.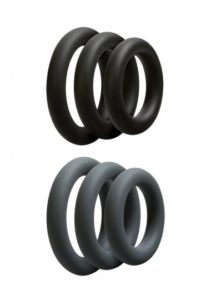 I like to stretch the ring prior to positioning just to loosen it up and test its flexibility.
Slipping Your Balls Through the Cock Ring
Another common use is to slip your balls through the ring, placing the ring behind your testicles. This creates a nice visual by pushing your balls forward and stretching them out a bit. It will also result in a slightly engorged scrotum for many men. Again, lube is key here.  I like to put lube on the ring, my shaft and my balls. To slip your balls through the ring, push one testicle at a time through the ring. Depending on the ring, I will either bend my penis down, head first into the ring, and slide it through, or simply pull the ring up over my penis.
Double Cock Rings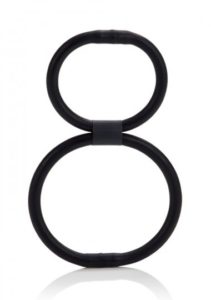 You can also use a double cock ring to slide one ring behind your balls while the other remains firmly around your shaft. For added pleasure, you can use a double vibrating ring to stimulate you and your partner. To use a double ring, apply lube to the ring, shaft and scrotum, slide the ring down your shaft and then stretch the larger ring out and slide your balls through. Secure the larger ring behind your balls and the smaller ring remains around your penis.
Self-Pleasure Rings
Many rings are part of pleasure package and one of the most common accompaniments is a prostate and perineum stimulator.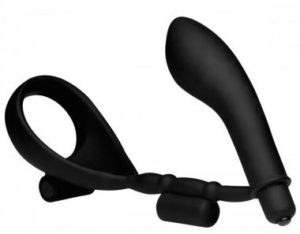 Slip the ring on as described above and then, with ample lube, pop the prostate stimulator into position.  The added vibration on your perineum (the highly sensitive area between your scrotum and anus) can feel great and the tug on your cock as you thrust and stretch the band holding the prostate stimulator in place means you and your partner share the benefits of this device equally.
Cock Rings in a Supporting Role
One of my favorite types of toys is the cock ring attached to a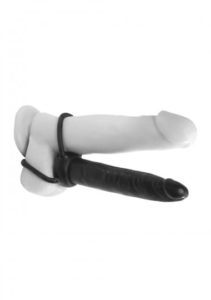 double-penetration toy.
Harnesses can be expensive, intimidating and often complicated to put on in the heat of the moment. If you like the idea of delivering double pleasure but hesitate to buy a harness, these double-penetrating cock rings are the solution.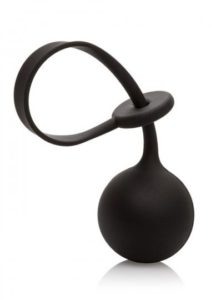 Add a buzz and you're going to have a memorable and unique sexual experience.
Other examples of cock rings working in tandem with other toys to deliver unique sensations are cock rings with nipple clamps, cock rings that buzz your balls, cock rings that add texture to your penis, cock rings with chastity belts, cock rings with weights on them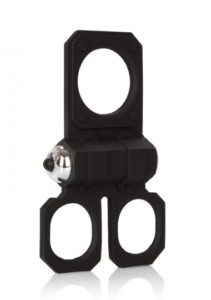 and cock rings that spread your balls. You get the idea: there are many, many variations on the standard ring.
Pennis Pump, Cock Rings and Extensions
Although Cock Rings are often sold with Penis Pumps and Penis Extensions, I've never seen these three sold together—things get really interesting when you use all three in unison. The pump is not only a great way to get an erection (particularly when you include your partner in the process and let them witness the magical transformation of your penis into a massive, steel rod!), use of a pump often slightly increases the length and girth of your cock as well. And once the pump does it's magic, the ring does a great job of maintaining your newfound erection and size. And this is when a penis extension can take things to the next level. What most men don't appreciate, however, is how penis extensions not only dramatically increase length and girth, they deliver new sensations and provide your partner with a stunning visual. combining pumps, cock rings and extensions will make foreplay surprisingly fun, different and enable creative and powerful sexual adventures.
I've written extensively about extensions and pumps in other articles if you're interested to learn more.
This article is an excerpt from the book, 'Better Than the Hand: How Masturbation is the Key to Better Sex & Healthier Living.'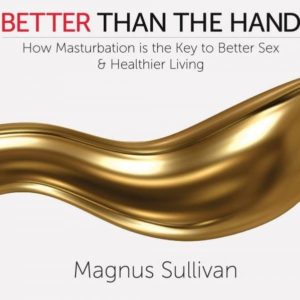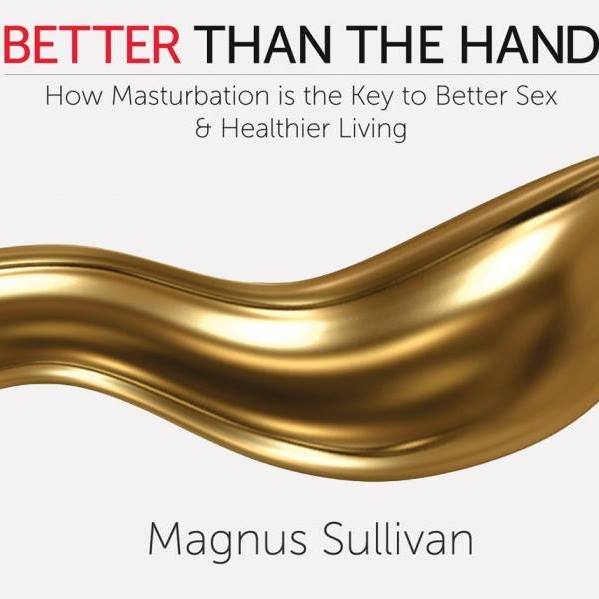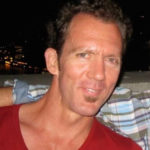 Magnus Sullivan
Magnus Sullivan has been at the forefront of technological and cultural shifts for more than 20 years. In 1993 Magnus founded eLine, one of the first system integration firms in San Francisco, bringing some of the biggest brands in the world online. One of his first clients was the storied progressive adult toy reseller, Good Vibrations. This was his first foray into the world of adult and he never looked back, partnering with the powerhouse, Game Link, to help create one of the most formidable companies in the online adult market. He has created two of the most awarded and recognized movies in the adult industry ('An Open Invitation' and 'Marriage 2.0', which won The Feminist Porn Awards coveted 'Movie of the Year' award in 2016) and recently launched www.manshop.com, a reseller of sex toys for men, and www.betterthanthehand.com, a sex positive blog that promotes male masturbation and discusses the various social issues associated with it. Sullivan has written extensively about the need to expand and enhance content production in the adult industry and is also the author of 'Better Than The Hand: How Masturbation is the Key to Better Sex and Healthier Living'. He is a fourth-generation SF-native, lives with his wife and children in the San Francisco Bay Area and enjoys kite boarding, skiing, triathlon, cooking, reading, writing and just about everything else that engages his mind and his body.
35 Articles