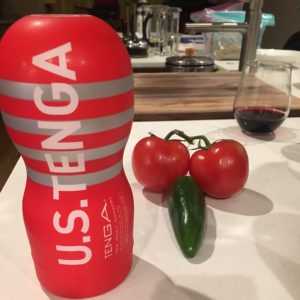 That is the tagline on TENGA's 'Original Vacuum Cup' sleeve. What a delightful departure from the standard adult masturbator marketing slogan!
Full disclosure: I am a huge fan of TENGA products. I was first introduced to the TENGA EGG by the owner of 'La Jugeteria' in Madrid, Spain.  She tossed me and EGG and told me just how to use it (swirl it around the tip of your cock!), winking as the egg flew through the air from her hands to mine. I've been hooked ever since. The EGG, however, was so damn good I never really ventured beyond it—until now.  After meeting some of the people from TENGA at the AVN show this year, I decided I needed to dive deeper into their product line. So I went straight for their classic stroker: the Vacuum Cup.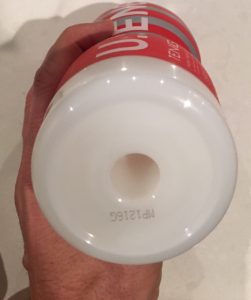 TENGA products achieve a level of aesthetics unlike anything else. While many aspire to blend art and function (like Lelo), TENGA IS art, and the experience they enable is transformative.  Their products are just stunning! The design. The colors. The shapes. The packaging—but it doesn't end there.  TENGA's products are well thought-out: they work!  The little details in the packaging (for instance, the seal for the vacuum hole that must be removed or the outer layer of packaging that must be removed to open the vacuum cup) make you feel that you're dealing with an adult product that could set the standard for their mainstream commercial counterparts.  Unlike many products in adult where the marketing outstrips the product, TENGA products communicate a level of design that fuses sex, intelligence and beauty.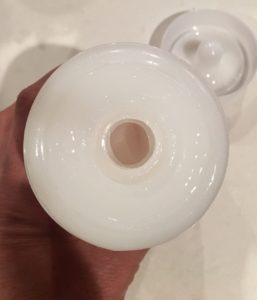 As soon as I opened the top, I knew I was going to have fun: The Vacuum Cup arrives prelubricated and the texture of the sleeve strikes the perfect balance between softness and texture, while the vacuum hole provides the perfect level of suction.  The shape makes it easy to grip and the fact that it's lightweight makes it easy to hold with one hand–which means you can do all sorts of nasty with the other! 
The combination of perfect suction, light-weight build, easy grip and perfect lube made for a truly unique session.  my only regret is that I had to throw it away when I was finished.  So I got right back in line to buy a new one…
(Note: If you're 7" or more (they don't call me 'Magnus' for nothing), you'll want to go with the ultra size or 'U.S.' version.  And as I said, ALL of TENGA's products are artful, functional and uniquely effective, so browse their entire selection). 
Enjoy!